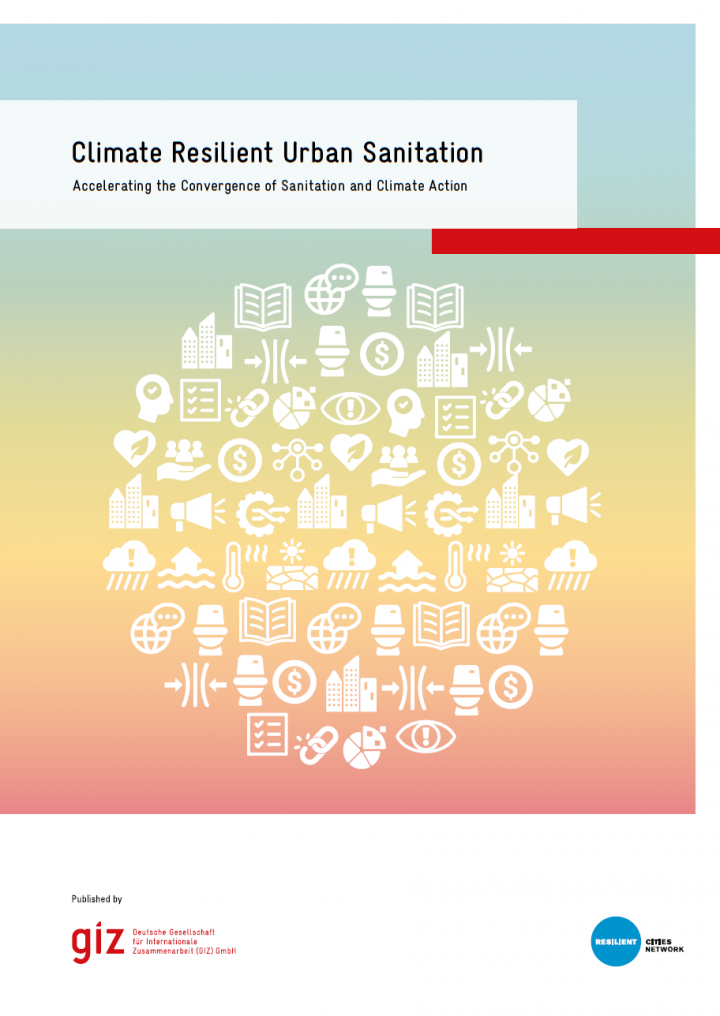 Published in: 2021
Pages: 84
Publisher:
Deutsche Gesellschaft für Internationale Zusammenarbeit (GIZ) GmbH
Author:
Mikhael, G., Hyde-Smith, L., Twyman, B., Trancón, D. S., Jabagi, E., & Bamford, E.
Uploaded by:
SuSanA Admin
Partner profile:
common upload
---
2791 Views
400 Downloads
Cities are incredibly vulnerable to climate change. Although sanitation is a critical urban system and service, it is not widely considered a climate change issue. While water has long been recognized as a central component of climate change adaptation, there is only sparse research and evidence on the impacts of climate change on sanitation infrastructure and services, and therefore limited discussion of effective approaches for adaptation.

However, sanitation can be a crucial driver for climate change adaptation and mitigation. Through investments in resilient sanitation systems, we can safeguard public health and further, create a sustainable economy around sanitation services, as well as foster innovation as a pivotal component of combating climate change at the global scale. But a shift to sustainable sanitation will require a coordinated effort with other urban services, a better understanding what resilient sanitation systems are and how they can contribute to a city's overall resilience.
The Sector Programme Sustainable Sanitation at the Deutsche Gesellschaft für Internationale Zusammenarbeit (GIZ) GmbH and the Resilient Cities Network (R-Cities) – partnered to conduct this study to improve our understanding of the impacts of climate change on urban sanitation and the role and potential of sanitation in the context of urban and climate resilience. We are hoping to contribute to the wider understanding of these issues, as well as provide a first set of guiding principles that can support practitioners and policymakers to achieve better outcomes. Being resilient is about identifying the most important priorities for a city faced with multiple challenges, recognizing that shocks and stresses are interconnected, and solutions must be as well.
Bibliographic information
Mikhael, G., Hyde-Smith, L., Twyman, B., Trancón, D. S., Jabagi, E., & Bamford, E. (2021). Climate Resilient Urban Sanitation - Accelerating the Convergence of Sanitation and Climate Action. Deutsche Gesellschaft für Internationale Zusammenarbeit (GIZ) GmbH
Filter tags
English Europe & Central Asia Peri-urban Politicians and local decision makers Practitioners Recommended by SuSanA (other than SuSanA publications) Urban (entire city) Urban informal settlements (slums)
Download