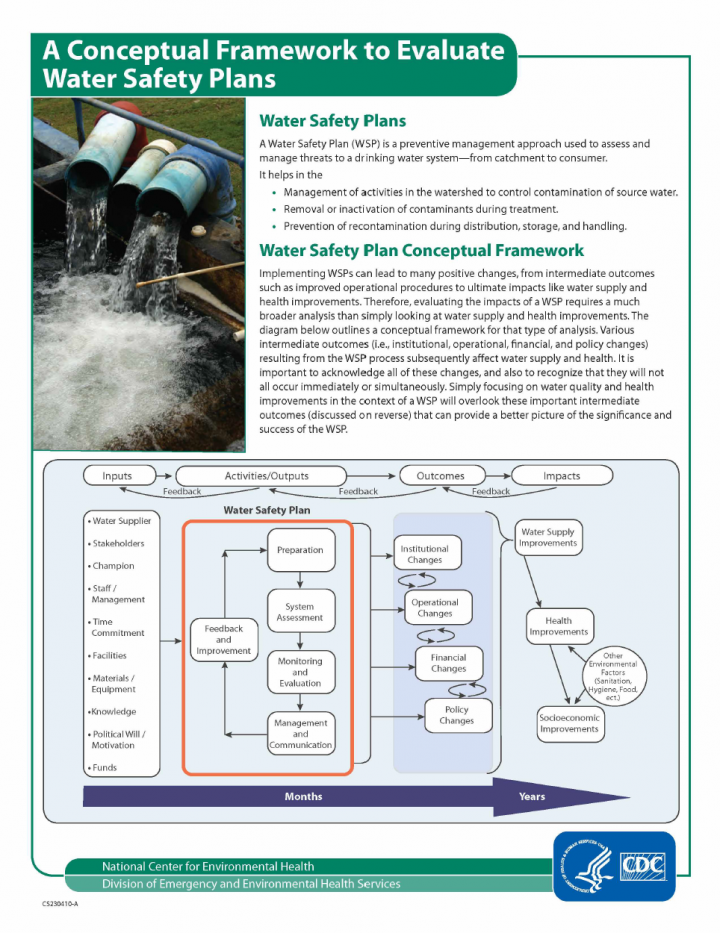 Published in: 2012
Pages: 2
Publisher:
CDC
Author:
CDC
Uploaded by:
SuSanA Admin
Partner profile:
common upload
---
152 Views
3 Downloads
A Water Safety Plan (WSP) is a preventive management approach used to assess and manage threats to a drinking water system— from catchment to consumer.It helps in the
• Management of activities in the watershed to control contamination of source water.
• Removal or inactivation of contaminants during treatment.
• Prevention of recontamination during distribution, storage, and handling.

Implementing WSPs can lead to many positive changes, from intermediate outcomes such as improved perational procedures to ultimate impacts like water supply and health improvements. Therefore, evaluating the impacts of a WSP requires a much broader analysis than simply looking at water supply and health improvements. The
diagram below outlines a conceptual framework for that type of analysis. Various intermediate outcomes (i.e., institutional, operational, financial, and policy changes) resulting from the WSP process subsequently affect water supply and health. It is im portant to acknowledge all of these changes, and also to recognize that they will not
all occur immediately or simultaneously. Simply focusing on water quality and health improvements in the context of a WSP will overlook these im portant intermediate outcomes (discussed on reverse) that can provide a better picture of the significance and success of the WSP.
Bibliographic information
CDC (2012). A Conceptual Framework to Evaluate Water Safety Plans. CDC
Filter tags
English Factsheets and policy briefs Politicians and local decision makers Practitioners
Download