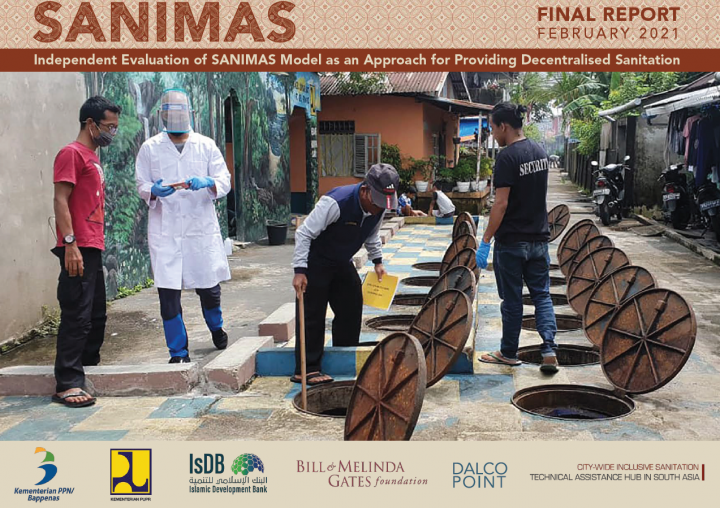 Published in: 2021
Pages: 133
Publisher:
Citywide Inclusive Sanitation Technical Assistance Hub for South Asia (CWIS TA-Hub)
Author:
CWIS TA-Hub
Uploaded by:
SuSanA Admin
Partner profile:
common upload
---
907 Views
69 Downloads
According to RPJMN 2020–2024 figures, in 2018 almost 75 percent of the Indonesian population has
access to improved sanitation nationally. This includes almost 7.5 percent classified as safely
managed sanitation services based on Sustainable Development Goals (SDGs) 2030 definitions. These
figures are impressive considering the low base of sanitation coverage with which the country has
been evolving from.

Since the early 2000s, the Indonesian government has implemented important policy interventions and
made significant investments to increase sanitation access across the nation, especially in the area of
community-based decentralised small-scale sanitation systems (SSS). The SANIMAS, or 'Community-Based Sanitation' (Sanitasi Berbasis Masyarakat), approach offered the Indonesian government a sanitation service option that had not been used anywhere else at scale before. The approach provides technical and institutional assistance to poor urban communities to develop sanitation infrastructure, which targets 50 to 200 households in urban areas; and includes decentralised SSS, for the collection and treatment of domestic wastewater, or a combination of SSS and a toilet block (MCK).

By the end of 2019, almost US $1 billion has been invested through six key SANIMAS programs with various funding sources including the Indonesian government, the World Bank, the Asian Development Bank (ADB) and the Islamic Development Bank (IsDB). Through these programs, 21,832 SANIMAS decentralised SSS were built, serving an estimated 6 million people, and MoPWH was responsible for implementing 97% of them.
Bibliographic information
CWIS TA-Hub (2021). SANIMAS - Final Report - Independent Evaluation of SANIMAS Model as an Approach for Providing Decentralised Sanitation. Citywide Inclusive Sanitation Technical Assistance Hub for South Asia (CWIS TA-Hub)
Filter tags
Decentralised wastewater treatment (e.g. DEWATS) East Asia & Pacific English Factsheets and policy briefs Politicians and local decision makers Practitioners
Download