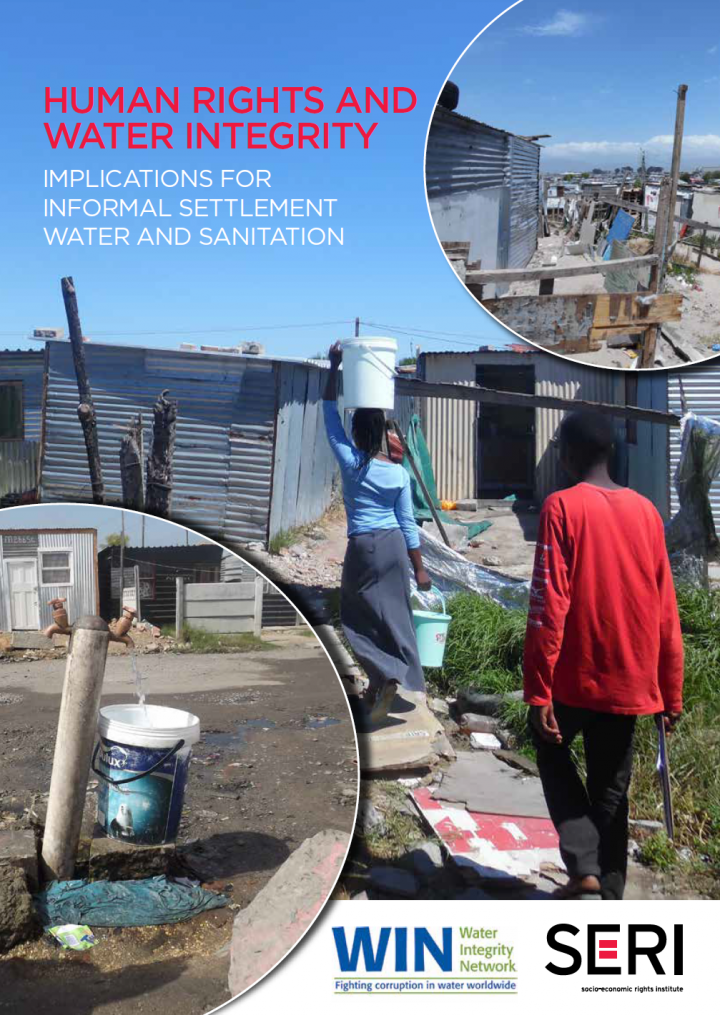 Published in: 2020
Pages: 36
Publisher:
Socio-Economic Rights Institute of South Africa (SERI) and the Water Integrity Network
Author:
Roaf, V., Potter, A., Ngunjiri, I., and Schreiner, B.
Uploaded by:
SuSanA Admin
---
60 Views
4 Downloads
Despite clear international law on the human right to water, and widespread recognition of this right, almost one billion people still do not have adequate, affordable and safe access to water and 2.4 billion people do not have access to safe sanitation.

The world's urban population is increasing and by conservative estimates, rates of growth will continue well into the middle of this century. By 2050, 70% of the global population is expected to live in cities. While the proportion of the urban population living in informal settlements has gradually decreased, the absolute number of people living in informal settlements has continued to increase.

Rapid urbanisation poses challenges to city governments' ability to meet their human rights obligations, especially in expanding informal settlements. However, safely managed water and sanitation services significantly reduce social, health, economic and financial costs, to both governments and households. Informal settlements are generally well located with respect to economic opportunities, transportation and social facilities, and while precarious, they provide livelihoods opportunities. They provide affordable rental accommodation or land for self-built shelter. They are an entry point into an urban economy. The persistence of informal settlements is a clear indication of the state's failure and the market's inability to provide poor households with affordable accommodation options in well-located areas, and of the resilience and agency of poor households.

"Integrity" and "human rights" are complementary frameworks, brought into focus in this paper through the lens of informal settlement water and sanitation. Findings from research undertaken in Siyanda, Marikana and Ratanang, three informal settlements in different provinces of South Africa and in Mukuru, an informal settlement in Nairobi, Kenya, are discussed. The paper shows how an integrity focus can help to achieve human rights obligations and how a human rights focus improves integrity and reduces opportunities for corruption. It concludes by discussing cross-cutting issues with respect to improved integrity and the realisation of human rights.
Bibliographic information
Roaf, V., Potter, A., Ngunjiri, I., and Schreiner, B. (2020). Human Rights and Water Integrity - Implications For Informal Settlement Water And Sanitation. Socio-Economic Rights Institute of South Africa (SERI) and the Water Integrity Network
Filter tags
English Politicians and local decision makers Practitioners Sub-Saharan Africa Urban informal settlements (slums)
Information on external sites
Download