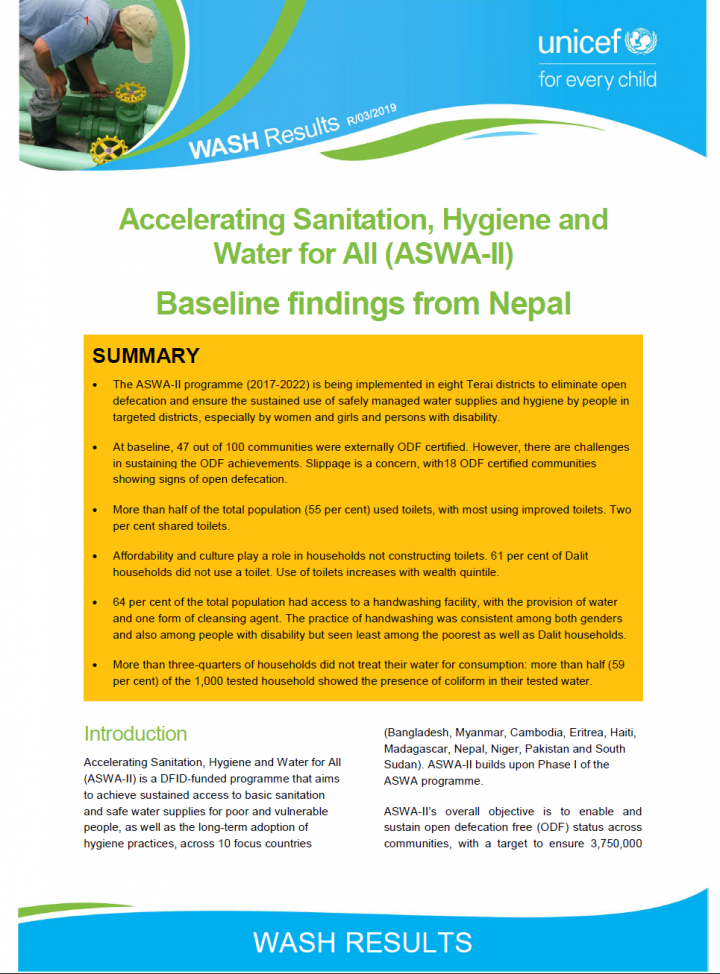 Published in: 2019
Pages: 8
Publisher:
United Nations Children's Fund, New York, USA
Author:
Cavill, S., Dhakal, S., Bishwakarma, D., Shrestha, S., Ahmad, T.
Uploaded by:
SuSanA Admin
Partner profile:
United Nations Childrens Fund
---
1087 Views
24 Downloads
• The ASWA-II programme (2017-2022) is being implemented in eight Terai districts to eliminate open defecation and ensure the sustained use of safely managed water supplies and hygiene by people in targeted districts, especially by women and girls and persons with disability.
• At baseline, 47 out of 100 communities were externally ODF certified. However, there are challenges in sustaining the ODF achievements. Slippage is a concern, with18 ODF certified communities showing signs of open defecation.
• More than half of the total population (55 per cent) used toilets, with most using improved toilets. Two per cent shared toilets.
• Affordability and culture play a role in households not constructing toilets. 61 per cent of Dalit households did not use a toilet. Use of toilets increases with wealth quintile.
• 64 per cent of the total population had access to a handwashing facility, with the provision of water and one form of cleansing agent. The practice of handwashing was consistent among both genders and also among people with disability but seen least among the poorest as well as Dalit households.
• More than three-quarters of households did not treat their water for consumption: more than half (59 per cent) of the 1,000 tested household showed the presence of coliform in their tested water.
Bibliographic information
Cavill, S., Dhakal, S., Bishwakarma, D., Shrestha, S., Ahmad, T. (2019). Accelerating Sanitation, Hygiene and Water for All (ASWA-II) Baseline findings from Nepal. United Nations Children's Fund, New York, USA
Filter tags
East Asia & Pacific English Politicians and local decision makers Practitioners
Download