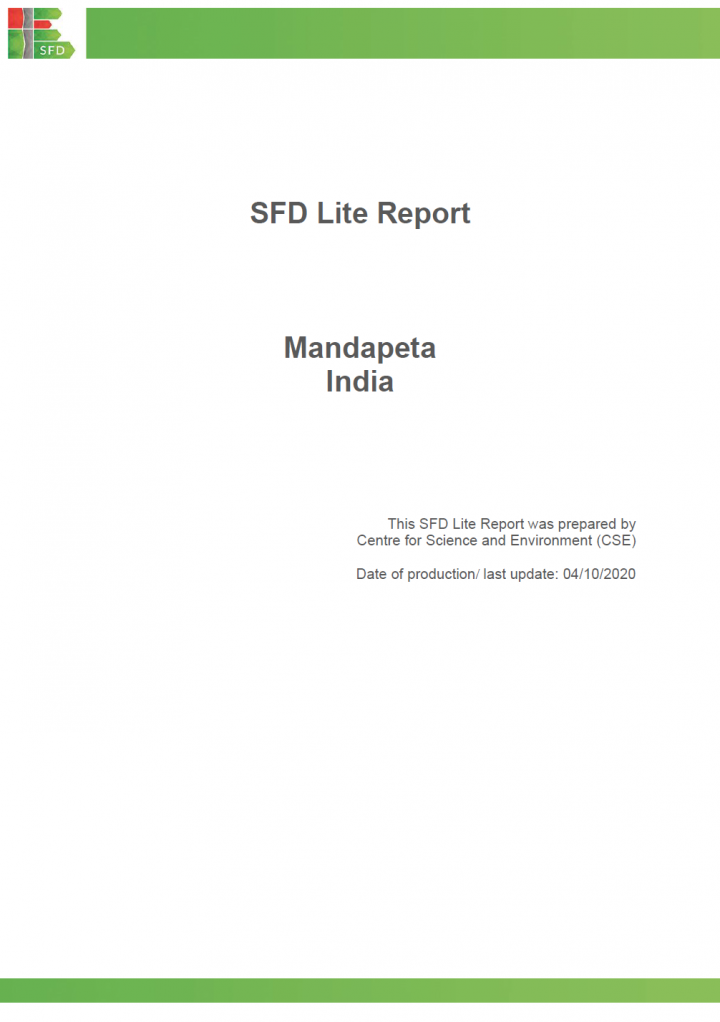 Published in: 2020
Pages: 9
Publisher:
Centre for Science and Environment (CSE)
Author:
Avinash, V.
Uploaded by:
SuSanA Admin
Partner profile:
cewas - international centre for water management services
---
1281 Views
50 Downloads
Mandapeta was originally called "Mandavyapuram", which came from Sage Mandukya. Mandapeta is a second-grade municipality established on October 1st, 1958 in East Godavari District in the Indian state of Andhra Pradesh. It is located at mean elevation of about 15.48 msl at 16.520 N, 81.560 E.
Additional information
According to the 2011 census, the population of the town was 56,063 and total number of households was 15,444 and spread across an area of 21.65 sq. km. The current population of the town is 63,004 and total no. of households (HH) is 17681 with population growth rate of 1.1 which is divided into 30 election wards.. The municipal boundary and current population is used for preparation of SFD. As per the slum survey, there are 20 notified slums in Mandapeta with a total population of 20,153. The slum pockets are scattered in different localities of the town, mainly in the outskirt of the town.
The main soil type of town is alluvial (clay, loamy) soil. Mandapeta in general, has a tropical climate, winters last from November to February, while summers last from March to June. The annual rainfall is 1,133.4 mm, most of it received during the South-West monsoon in the months of July to September. The groundwater table in pre-monsoon is 2-6 mbgl (meter below ground level) and post-monsoon is 2 mbgl (meter below ground level). There is significant risk of ground water contamination.
Bibliographic information
Avinash, V. (2020). SFD Lite Report - Mandapeta, India. Centre for Science and Environment (CSE)
Filter tags
East Asia & Pacific English Politicians and local decision makers Practitioners SFD Report
Download