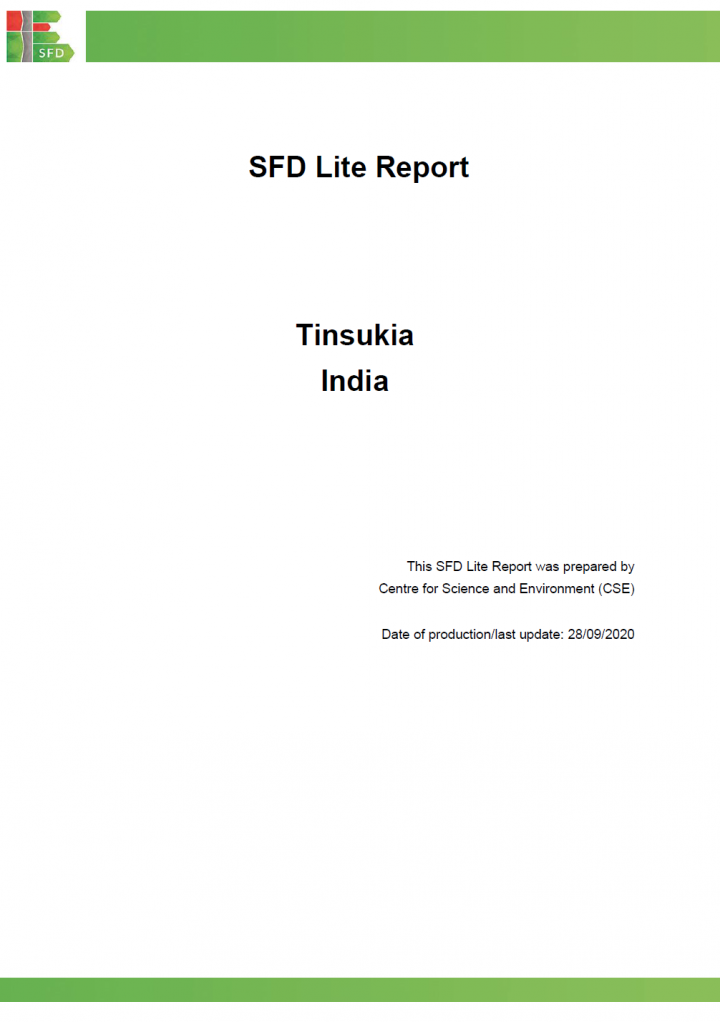 Published in: 2020
Pages: 8
Publisher:
Centre for Science and Environment (CSE)
Author:
CSE
Uploaded by:
SuSanA Admin
Partner profile:
cewas - international centre for water management services
---
1449 Views
78 Downloads
Tinsukia, the headquarter town of Tinsukia district, is situatedon NH-37 in the north-eastern part of the state of Assam, India. Originally Tinsukia was the capital of Motok Kingdom and was known as 'Changmai Pathar.' Located at a distance of 491km east of State Capital, Dispur, it is strategically connected to surrounding tea gardens, oil towns, coalfields, orange cultivations and other agricultural products. Tinsukia is considered as a major commercial centre in Upper Assam.
Additional information
The Urban Local Body (ULB) governing Tinsukia is Tinsukia Municipal Board (TMB) which is divided into 15 wards. According to 2011 census, the population of the city was 99,448 and total number of households was 26,405 and spread across an area of 10.52 sq. km2. The projected population for the year 2020 is 139,000. The municipal boundary and current population is used for preparation of SFD. There is anaverage daily footfall of around 10,000 individuals, being a commercial hub and availability of health and community facilities for nearby villages.

Tinsukia is located at mean elevation of about 116 msl at 27.4886° N, 95.3558° E. The soil type varies from sandy loam to clayey in nature5. Tinsukia has a max temperature in summers of 31°C and min temperature in winter less than 10°C and average annual rainfall of about 2,758 mm. The risk of groundwater contamination is insignificant as the depth of groundwater is considered at >12 metres. Due to presence of contaminants (particularly Fe) in groundwater, boring for drinking water is usually done beyond 12 metres and up to 30 metres depth. The water supplied in the city is predominantly through borewells and tubewells.
Bibliographic information
CSE (2020). SFD Lite Report - Tinsukia, India. Centre for Science and Environment (CSE)
Filter tags
East Asia & Pacific English Politicians and local decision makers Practitioners SFD Report
Download