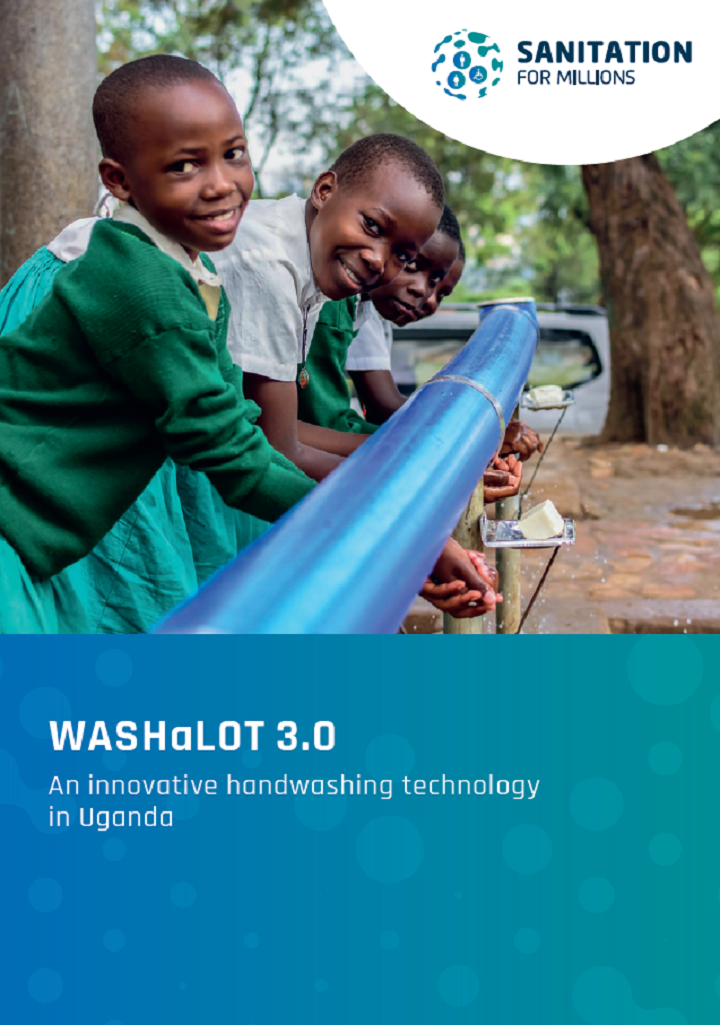 Published in: 2020
Pages: 44
Publisher:
Deutsche Gesellschaft für Internationale Zusammenarbeit (GIZ) GmbH
Author:
Nuwagaba, F.; Köberlein, M.; Mass, P.; Semiyaga, S. & Madrid, F.
Uploaded by:
SuSanA Admin
Partner profile:
Deutsche Gesellschaft für Internationale Zusammenarbeit (GIZ) GmbH
---
1705 Views
107 Downloads
UNICEF/WHO reports that 1.7 million children die annually of diarrhea and pneumonia. Handwashing with soap under running water can prevent the majority of infectious diseases, such as COVID-19, influenza, cold, cholera, dysentery, and contagious eye disease. Several studies have reported reduced incidences of pneumonia and diarrheal diseases by over 40% to 50% through handwashing. However, many people in Uganda, like in other low- and middle-income countries have limited access to handwashing facilities, mainly in institutions and public places such as schools, health centres, markets, open parks and prisons, among others. This is due to high costs involved in construction, operation and maintenance of such facilities. High cost of water, for example is reported to cause abandoning of facilities.
Additional information
The Sustainable Sanitation Programme of the Deutsche Gesellschaft für Internationale Zusammenarbeit (GIZ) and the Regional Fit for School Programme in Southeast Asia have developed in cooperation with the University of Applied Sciences Potsdam the WASHaLOT 3.0, a low-cost and water-saving handwashing facility technology. The WASHaLOT 3.0 is the third iteration of the WASHaLOT design building on the experiences of the Regional Fit for School programme gathered across Southeast Asia since 2013. Handwashing facilities - like the WASHaLOT 3.0 - are designed to enable both group handwashing and individual handwashing at any critical time. The overall aim is to create an environment where all children can realize their right to wash their hands, even if water is a scarce resource and huge numbers of children need to wash their hands at a short period of time. The first version of the WASHaLOT resulted from a workshop conducted in the Philippines in 2013 which brought together production designers from Asia and Germany to address challenges and optimise existing group washing facilities. Since then, three major versions have been introduced.
Bibliographic information
Nuwagaba, F.; Köberlein, M.; Mass, P.; Semiyaga, S. & Madrid, F. (2020). Sanitation For Millions - WASHaLOT 3.0 - An innovative handwashing technology in Uganda. Deutsche Gesellschaft für Internationale Zusammenarbeit (GIZ) GmbH
Filter tags
English Practitioners Schools
Further readings
Download