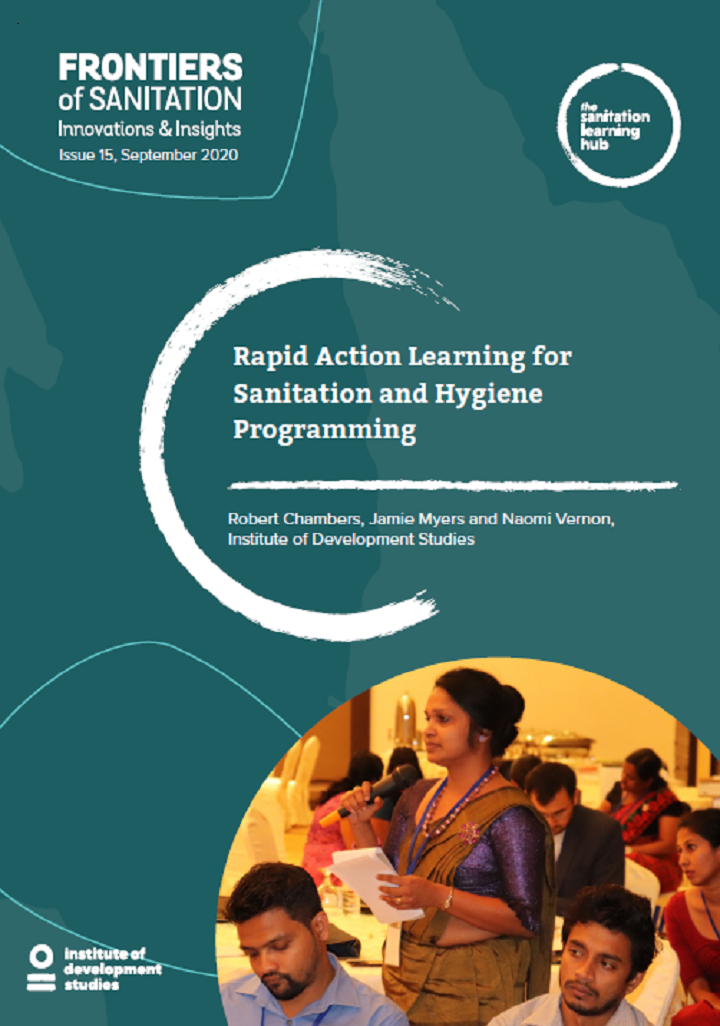 Published in: 2020
Pages: 21
Publisher:
Institute of Development Studies
Author:
Chambers, R.; Myers, J.; Vernon, N.
Uploaded by:
SuSanA Admin
Partner profile:
common upload
---
1119 Views
25 Downloads
In October 2019, a group of leading organisations in the sanitation and hygiene (S&H) sector – Plan International, SNV, UNICEF, WaterAid, the World Bank and World Water Supply and Sanitation Collaborative Council (WSSCC) – published a call to action.1 This stressed renewing commitment and stepping up ambitions and investments to rural S&H and called for evidence-based and adaptive implementation.
Additional information
There are many reasons for these priorities. The links between open defecation (OD) and child undernutrition are understood as never before (World Health Organization (WHO) 2018); the Sustainable Development Goals (SDGs) set the target for all countries to achieve 'safely managed' sanitation for all by 2030' but many countries are off-target or even regressing; despite efforts to 'leave no one behind', the poorest and most marginalised are often not being reached; donor expenditure for sanitation has been declining since 2015 (World Bank Group et al. 2019); and globally, COVID-19 and climate change accentuate the need for adaptability in S&H programmes. These factors interact with the systemic difficulties already experienced by those in organisations' headquarters when they seek to be in touch and up-to-date with rapidly changing field realities.

At the same time, large-scale urgent campaigns to accelerate progress towards the SDG targets have been mounted by Governments supported by civil society such as the Swachh Bharat (Clean India) Mission in India, NyumbaNiChoo in Tanzania, Clean Nigeria, Clean Green Pakistan, Sanitasi Total Berbasis Masyarakat (STBM) in Indonesia and the Nepalese government's WASH Master Plan, and others may follow suit. In campaigns like these, and in smaller programmes and projects, it is vital to be in touch and up-to-date with field realities and to identify what works and what does not. In these contexts, filling gaps in knowledge, and finding answers that provide practical ideas for policy and practice can have exceptionally widespread impact – provided they are timely, relevant, and actionable.
Bibliographic information
Chambers, R.; Myers, J.; Vernon, N. (2020). Rapid Action Learning for Sanitation and Hygiene Programming. Institute of Development Studies
Filter tags
English Guidelines and manuals Politicians and local decision makers Practitioners
Further readings
Download