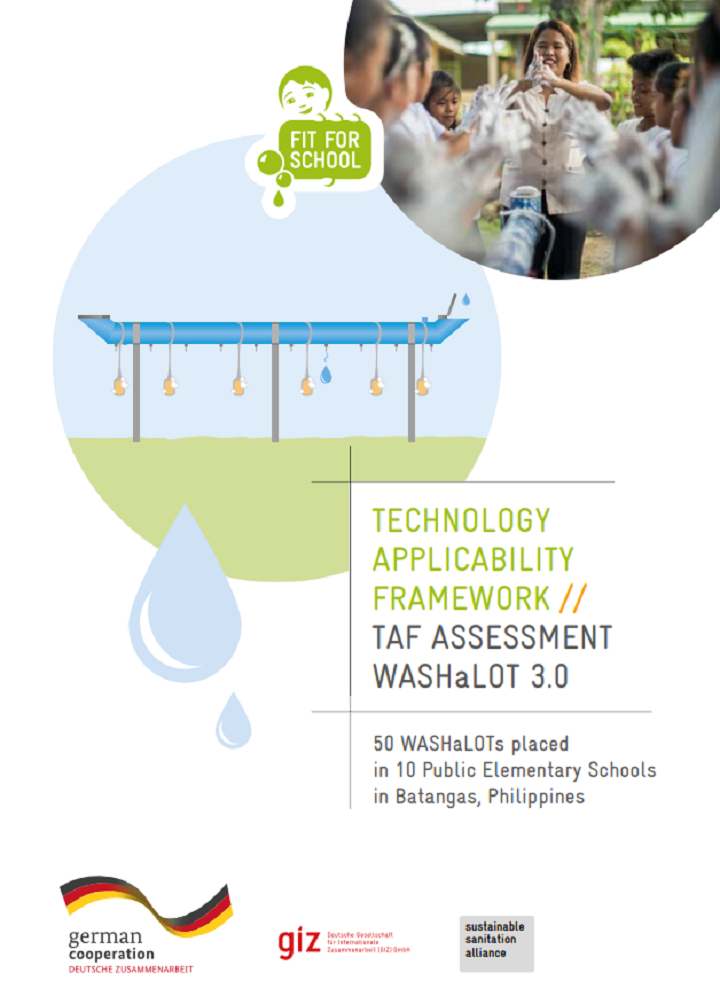 Published in: 2018
Pages: 17
Publisher:
Deutsche Gesellschaft für Internationale Zusammenarbeit (GIZ) GmbH
Author:
Madrid, F., Monse, B., Schlenk, J., Freundel, M., Bäurle, S.
Uploaded by:
SuSanA Admin
Partner profile:
Deutsche Gesellschaft für Internationale Zusammenarbeit (GIZ) GmbH
---
159 Views
12 Downloads
This tool will help you to decide if a technology implemented as a pilot fulfils the criteria for further implementation and scaling-up. In order to evaluate the potential of a given technology, the parameters of the specific local setting have to be analysed before upscaling. The results of the TAF can also be applied to a setting with similar parameters and therefore facilitate the upscaling process.

In a specific local setting, the TAF systematically assesses the applicability of a technology in its pilot phase. It can also be used on a broader scale (city/nationwide level) during upscaling. Developed for the WASH sector, the TAF is applicable in other sectors as well.
Bibliographic information
Madrid, F., Monse, B., Schlenk, J., Freundel, M., Bäurle, S. (2018). Technology Applicability Framework - TAF Assessment WASHaLOT 3.0. Deutsche Gesellschaft für Internationale Zusammenarbeit (GIZ) GmbH
Filter tags
Educators Guidelines and manuals
Download