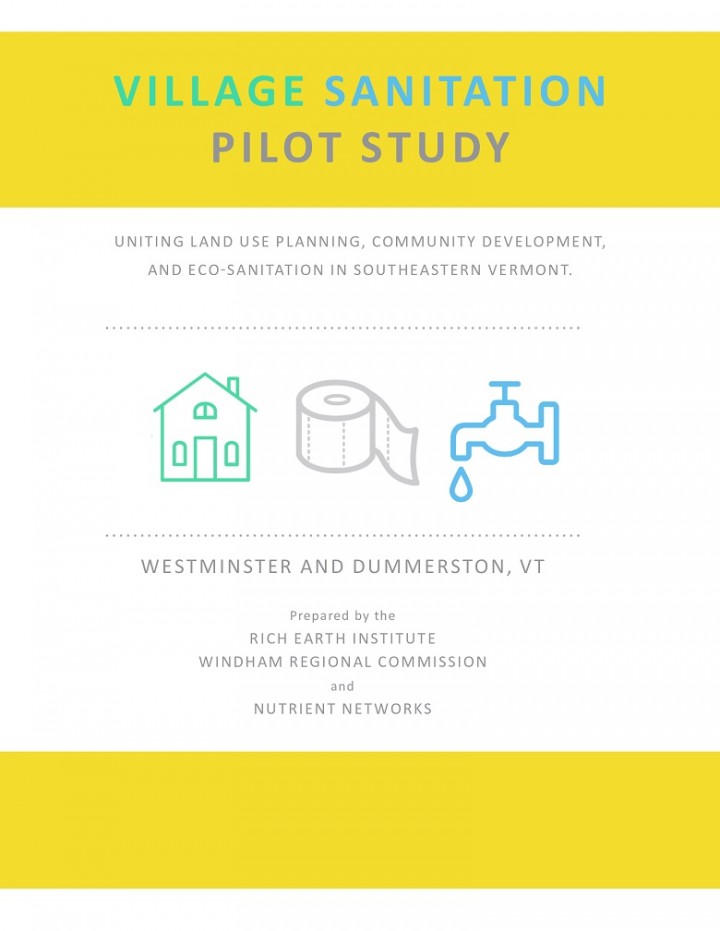 Published in: 2020
Pages: 62
Publisher:
Rich Earth Institute, Brattleboro, USA
Author:
Cavicchi, J., Davis, E., Gaynor, C., Kennedy, B., Lally, C., Nace, K., Noe-Hays, A.
Uploaded by:
SuSanA secretariat
Partner profile:
Rich Earth Institute
---
1062 Views
26 Downloads
---
Location of library entry
This study was the first to comprehensively assess the possibility of eco-sanitation options to help address village wastewater challenges in Vermont. In each village, site visits were conducted with participants to gauge the feasibility of a variety of composting and urine-diverting toilet systems. Of the options considered, a urine diverting flush toilet was identified as one of the more feasible options for retrofitting existing buildings. Urine diverting flush toilets reduce nutrient pollution by capturing nutrients before they enter the wastewater stream, generating a renewable source of fertilizer. These toilets reduce the volume and strength of wastewater, but the effect of urine diversion on septic system performance is not well understood, and research is needed to understand how urine diversion could help with septic siting challenges in Vermont villages.

Composting toilets have an even greater impact on the volume and strength of wastewater and Vermont allows a reduction in septic leach field size where composting toilets are installed, which could help with village septic siting challenges. However, composting toilets were found to be less feasible in this study because many of the historic buildings lack adequate basement or crawlspace to install large composting units. Smaller composting toilet systems would be technically feasible, but participants were concerned about greater maintenance needs for these types of systems, especially participants planning for aging in place. Composting toilets could be more viable in other situations, such as new construction and/or in buildings that have staff to assist with maintenance. Through this feasibility study, the project partners explored the connection between ecological sanitation, community development, and environmental health. The study made it clear that there is significant community concern about wastewater issues and interest in eco-sanitation options.
Bibliographic information
Cavicchi, J., Davis, E., Gaynor, C., Kennedy, B., Lally, C., Nace, K., Noe-Hays, A. (2020). Village Sanitation Pilot Study: Uniting Land Use Planning, Community Development, and Eco-Sanitation in Southeastern Vermont. Rich Earth Institute, Brattleboro, USA
Filter tags
Composting, vermicomposting (solid waste), composting toilets English Faeces or faecal sludge Fertiliser Politicians and local decision makers Urine Urine diversion dehydration toilets (UDDTs)
Download