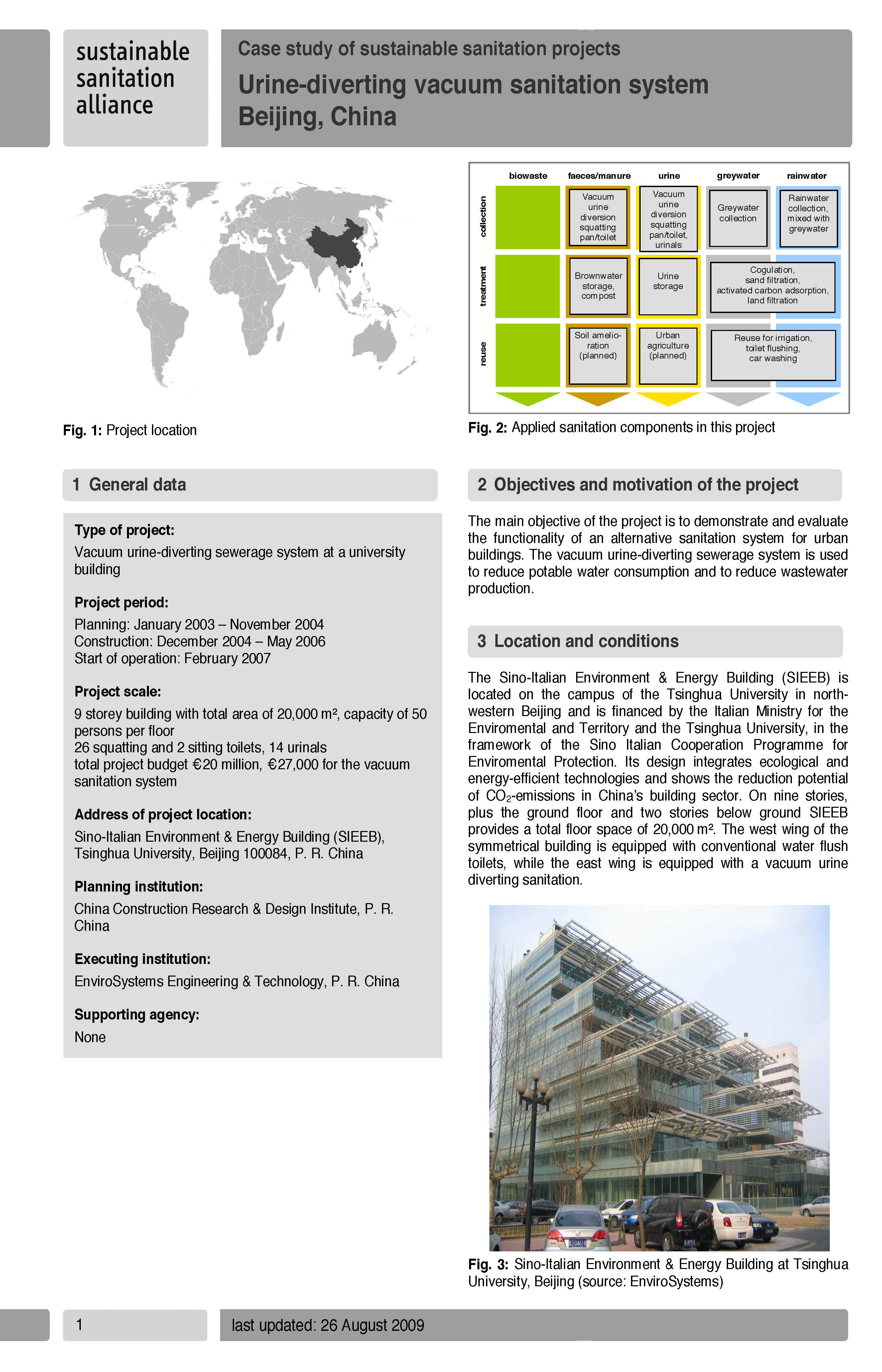 Published in: 2009
Publisher:
Sustainable Sanitation Alliance (SuSanA)
Author:
Germer, J.
Uploaded by:
SuSanA secretariat
Partner profile:
common upload
---
12182 Views
307 Downloads
---
Location of library entry
Content - Summary
This case study is a project to introduce vacuum urine-diverting sewerage system at an university building in Beijing, China. The project was implemented in a 9 storey building with a total area of 20.000 m² and a capacity of 50 persons per floor. 26 squatting and 2 sitting toilets as well as 14 urinals were applied. The system has been in operation since February 2007.

The main objective of the project is to demonstrate and evaluate the functionality of an alternative sanitation system for urban buildings. The vacuum urine-diverting sewerage system is used to reduce potable water consumption and wastewater production. Its design integrates ecological and energy-efficient technologies and shows the reduction potential of CO2-emissions in China's building sector. The construction cost of the vacuum urine diverting system (pipe, pump and storage installations) was about € 27,000.

The implementation of the source separation of urine and faeces provides an additional option to reduce the environmental footprint of SIEEB (Sino-Italian Environment & Energy Building) due the reuse of urine and faeces as a fertiliser for landscaping and agriculture. Currently, suitable pathways for urban-rural nutrient cycling are being investigated.

Rainwater, mixed with reclaimed greywater is used for toilet flushing, car washing and landscaping. Especially the internal garden, consisting of waterfalls and pools with a capacity of more than 150 m³, requires much water. The landscaping water is treated by land filtration integrated in a lawn nearby and recycled. There is currently no reuse of urine and brownwater, but they flow into the sewer system.

Based on the knowledge gathered during planning and in later phases, it was found that the system represents a technologically feasible and economically reasonable system. Accumulated data on the design, construction and operation are expected to provide important information for optimisation of the technology and its dissemination. Besides, vacuum urine diverting systems contribute to limiting the water requirements of modern cities and may help to close the nutrient loop between rural and urban areas.
Bibliographic information
Germer, J. (2009). Urine-diversion vacuum sanitation system Beijing, China - Case study of sustainable sanitation projects. Sustainable Sanitation Alliance (SuSanA)
Filter tags
Case studies in SuSanA template Constructed wetlands East Asia & Pacific English Urban (entire city)
Download