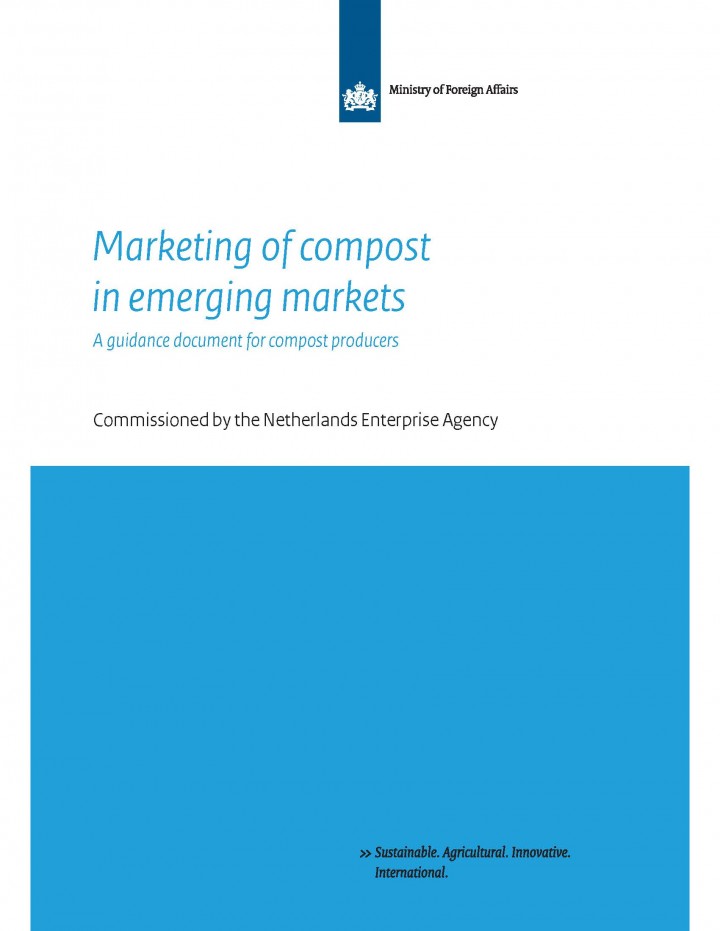 Published in: 2019
Pages: 28
Publisher:
The Netherlands Enterprise Agency
Author:
Brinkman, A.
Uploaded by:
Lara Nassar
---
421 Views
14 Downloads
The recycling of organic residues into compost has a number of advantages. It avoids the wasting valuable organic material to landfills and reduces associated emissions to water, soil and air. It generates a product that contributes to long-term soil quality, as compost contains a high amount of stabilised organic matter. Finally, compost may also reduce the need for artificial fertilisers, as it can (at least partially) replace the nutrient contents of the fertilisers.

Despite the obvious advantages, the marketing of compost is in many cases challenging. Potential users may not be familiar with the properties of the compost product, or simply not trust its composition and effects. Also, competition with alternative soil improvers/fertilisers is a critical issue. Finally correct pricing may be a challenge, in particular in countries where purchasing power is limited.

Marketing can help to overcome these barriers and identify and develop markets for compost. Successful marketing of compost products requires a thorough market assessment and a well thought-out positioning of the product in targeted market segments. This document aims to provide guidance for successful marketing of compost. The primary target audience are organic residues' recyclers and compost marketeers in emerging compost markets.

This guidance document is primarily about compost produced from organic residues. It does not focus on digestate or on other – less common – categories of fertilizers from organic residues, such as biochar or ashes from wood burning. However, the marketing guidance provided here is to a large extent also applicable to these and other types of organic soil improvers/fertilizers.
Bibliographic information
Brinkman, A. (2019). Marketing of compost in emerging markets - A guidance document for compost producers. The Netherlands Enterprise Agency
Filter tags
Composting, vermicomposting (solid waste), composting toilets English Guidelines and manuals
Download