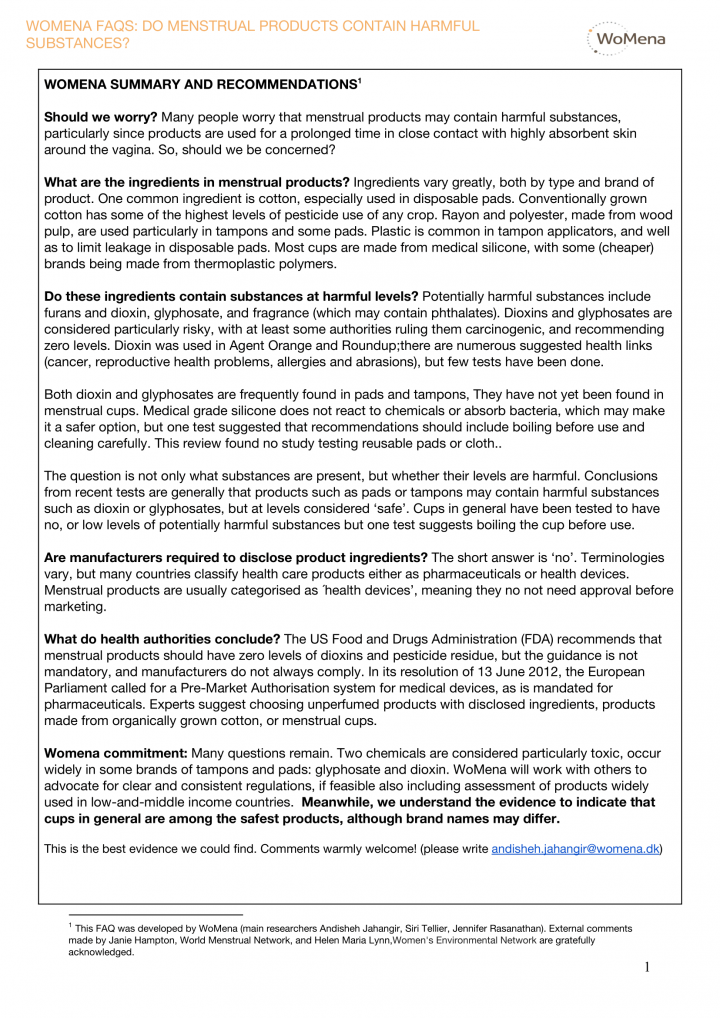 Published in: 2019
Pages: 10
Publisher:
WoMena
Author:
WoMena
Uploaded by:
Marianne Tellier (LiesbethVdB1)
---
62 Views
2 Downloads
WOMENA SUMMARY AND RECOMMENDATIONS

Should we worry? Many people worry that menstrual products may contain harmful substances, particularly since products are used for a prolonged time in close contact with highly absorbent skin around the vagina. So, should we be concerned?

What are the ingredients in menstrual products? Ingredients vary greatly, both by type and brand of product. One common ingredient is cotton, especially used in disposable pads. Conventionally grown cotton has some of the highest levels of pesticide use of any crop. Rayon and polyester, made from wood pulp, are used particularly in tampons and some pads. Plastic is common in tampon applicators, and well as to limit leakage in disposable pads. Most cups are made from medical silicone, with some (cheaper) brands being made from thermoplastic polymers.

Do these ingredients contain substances at harmful levels? Potentially harmful substances include furans and dioxin, glyphosate, and fragrance (which may contain phthalates). Dioxins and glyphosates are considered particularly risky, with at least some authorities ruling them carcinogenic, and recommending zero levels. Dioxin was used in Agent Orange and Roundup;there are numerous suggested health links (cancer, reproductive health problems, allergies and abrasions), but few tests have been done.

Both dioxin and glyphosates are frequently found in pads and tampons, They have not yet been found in menstrual cups. Medical grade silicone does not react to chemicals or absorb bacteria, which may make it a safer option, but one test suggested that recommendations should include boiling before use and cleaning carefully. This review found no study testing reusable pads or cloth..

The question is not only what substances are present, but whether their levels are harmful. Conclusions from recent tests are generally that products such as pads or tampons may contain harmful substances such as dioxin or glyphosates, but at levels considered 'safe'. Cups in general have been tested to have no, or low levels of potentially harmful substances but one test suggests boiling the cup before use.

Are manufacturers required to disclose product ingredients? The short answer is 'no'. Terminologies vary, but many countries classify health care products either as pharmaceuticals or health devices. Menstrual products are usually categorised as ´health devices', meaning they no not need approval before marketing.

What do health authorities conclude? The US Food and Drugs Administration (FDA) recommends that menstrual products should have zero levels of dioxins and pesticide residue, but the guidance is not mandatory, and manufacturers do not always comply. In its resolution of 13 June 2012, the European Parliament called for a Pre-Market Authorisation system for medical devices, as is mandated for pharmaceuticals. Experts suggest choosing unperfumed products with disclosed ingredients, products made from organically grown cotton, or menstrual cups.

Womena commitment: Many questions remain. Two chemicals are considered particularly toxic, occur widely in some brands of tampons and pads: glyphosate and dioxin. WoMena will work with others to advocate for clear and consistent regulations, if feasible also including assessment of products widely used in low-and-middle income countries. Meanwhile, we understand the evidence to indicate that cups in general are among the safest products, although brand names may differ.
Bibliographic information
WoMena (2019). WoMena FAQ: Do menstrual products contain harmful substances?. WoMena
Filter tags
English
Information on external sites
Download