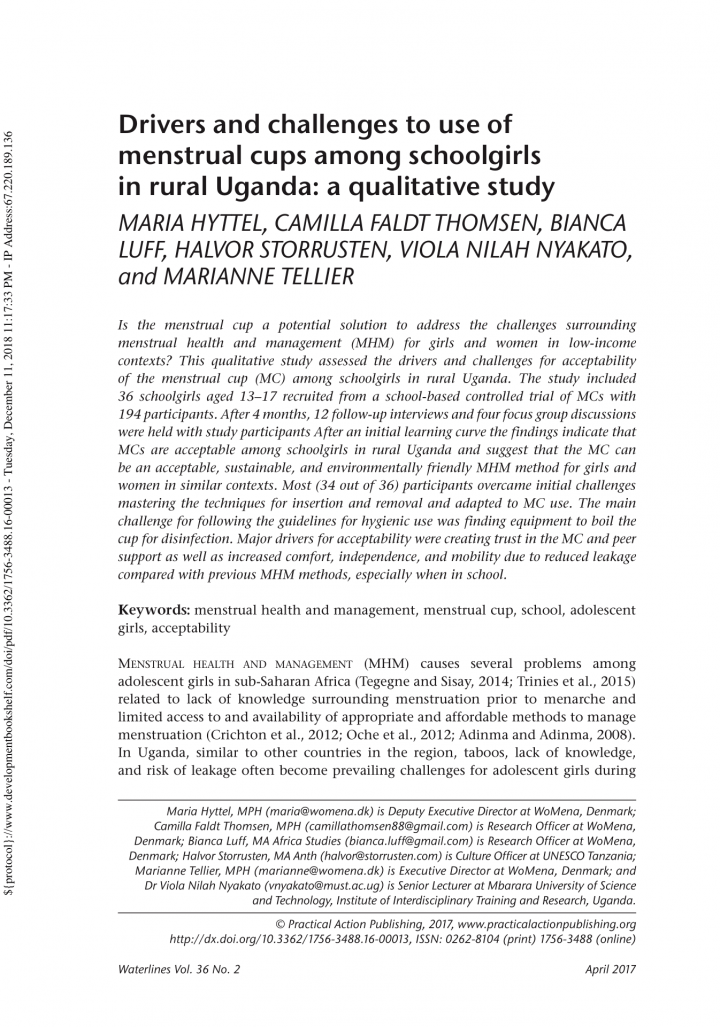 Published in: 2017
Pages: 124
Publisher:
Waterlines
Author:
Hyttel,M., Thomsen,C.F, Luff, B., Storrusten, H. , Nyakato, V. N. .
Uploaded by:
Marianne Tellier
Partner profile:
WoMena
---
455 Views
6 Downloads
---
Location of library entry
Is the menstrual cup a potential solution to address the challenges surrounding menstrual health and management (MHM) for girls and women in low-income contexts? This qualitative study assessed the drivers and challenges for acceptability of the menstrual cup (MC) among schoolgirls in rural Uganda. The study included 36 schoolgirls aged 13–17 recruited from a school-based controlled trial of MCs with 194 participants. After 4 months, 12 follow-up interviews and four focus group discussions were held with study participants After an initial learning curve the findings indicate that MCs are acceptable among schoolgirls in rural Uganda and suggest that the MC can be an acceptable, sustainable, and environmentally friendly MHM method for girls and women in similar contexts. Most (34 out of 36) participants overcame initial challenges mastering the techniques for insertion and removal and adapted to MC use. The main challenge for following the guidelines for hygienic use was finding equipment to boil the cup for disinfection. Major drivers for acceptability were creating trust in the MC and peer support as well as increased comfort, independence, and mobility due to reduced leakage compared with previous MHM methods, especially when in school.
Additional information
This flagship publication by WoMena team focuses on the acceptability of the menstrual cup (MC) among schoolgirls in rural Uganda. The study finds that after the girls get used to the cup, 94% of them reported they would continue using it.
Bibliographic information
Hyttel,M., Thomsen,C.F, Luff, B., Storrusten, H. , Nyakato, V. N. . (2017). Drivers and challenges to use of menstrual cups among schoolgirls in rural Uganda: a qualitative study. Waterlines
Filter tags
English Sub-Saharan Africa
Information on external sites
Download