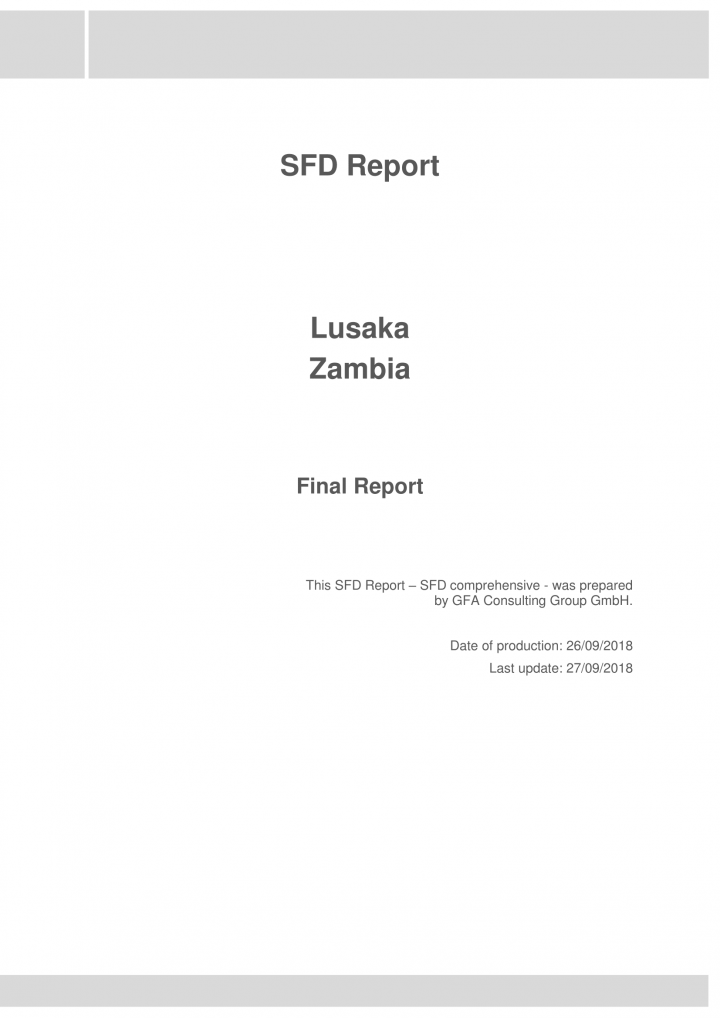 Published in: 2018
Pages: 48
Publisher:
GFA Consulting Group GmbH, Hamburg, Germany
Author:
Kappauf, L., Heyer, A., Makuwa, T., Titova, Y.
Uploaded by:
SuSanA Admin
Partner profile:
common upload
---
4535 Views
617 Downloads
---
Location of library entry
Lusaka is the capital city of Zambia. Situated in the central part of Zambia on the Central African Plateau it is one of the fastest-developing cities in Southern Africa. Lusaka is both the political and economic centre of Zambia. Lusaka District is located within Lusaka Province, the smallest but most densely populated of the eleven Zambian provinces (CSO, 2014). According to projections by the Central Statistical Office (CSO), the population of Lusaka District is estimated to be 2,526,102 in 2018 (CSO, 2013). Around 70% of Lusaka's population lives in so-called peri-urban areas (PUAs) (UN-HABITAT, 2007). The PUAs are generally characterized by lack of adequate housing, infrastructure and services (UN-HABITAT, 2007).
Most people in Lusaka (82% of the residents) rely on on-site sanitation systems. The sewer network managed by Lusaka Water and Sewerage Company (LWSC) currently covers only about 14% of the population and has insufficient capacity to handle the current flows (LWSC, 2018a; Brown et al., 2012). Open defecation is practiced by 4% of the population. It is estimated that only 17% of the excreta in Lusaka is managed safely, with 83% being unsafely managed.
Bibliographic information
Kappauf, L., Heyer, A., Makuwa, T., Titova, Y. (2018). SFD Report - Lusaka, Zambia - SFD Promotion Initiative. GFA Consulting Group GmbH, Hamburg, Germany
Filter tags
English SFD Report Sub-Saharan Africa
Download