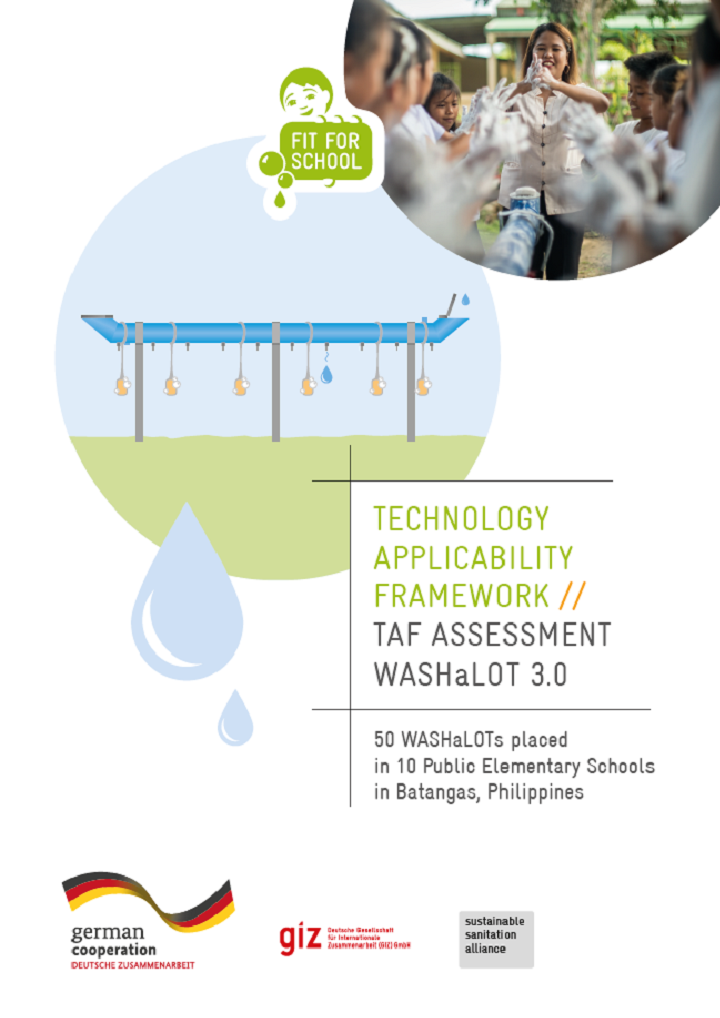 Published in: 2018
Pages: 32
Publisher:
Deutsche Gesellschaft für Internationale Zusammenarbeit (GIZ) GmbH, Eschborn, Germany
Author:
Madrid, F., Monse, B., Schlenk, J., Siewert-Freundel, M., Bäurle, S.
Uploaded by:
SuSanA Admin
Partner profile:
common upload
---
2911 Views
97 Downloads
---
Location of library entry
To assess the future applicability and appropriateness of the WASHaLOT 3.0, a group washing facility designed to facilitate hygiene activities for many people simultaneously whilst using minimal amounts of water at low cost, the Technology Applicability Framework (TAF) has been applied.

The TAF helps to understand if any technology implemented as a pilot fulfils the criteria for further implementation and scaling-up, by assessing the technology through the perspective of three key stakeholder groups engaged with the implementation of the technology: user/buyer, producer/provider and regulator/investor/facilitator.
This report captures the findings of an evaluation of the WASHaLOT 3.0 in the Province of Batangas after four months of operation.
Bibliographic information
Madrid, F., Monse, B., Schlenk, J., Siewert-Freundel, M., Bäurle, S. (2018). Technology Applicability Framework: Assessment of the WASHaLOT 3.0 - 50 WASHaLOTs placed in 10 Public Elementary Schools in Batangas, Philippines. Deutsche Gesellschaft für Internationale Zusammenarbeit (GIZ) GmbH, Eschborn, Germany
Filter tags
Camps (emergency or longer term) East Asia & Pacific English Factsheets and policy briefs Politicians and local decision makers Posters, brochures and flyers Practitioners Rural Schools Water (irrigation, process, other)
Download