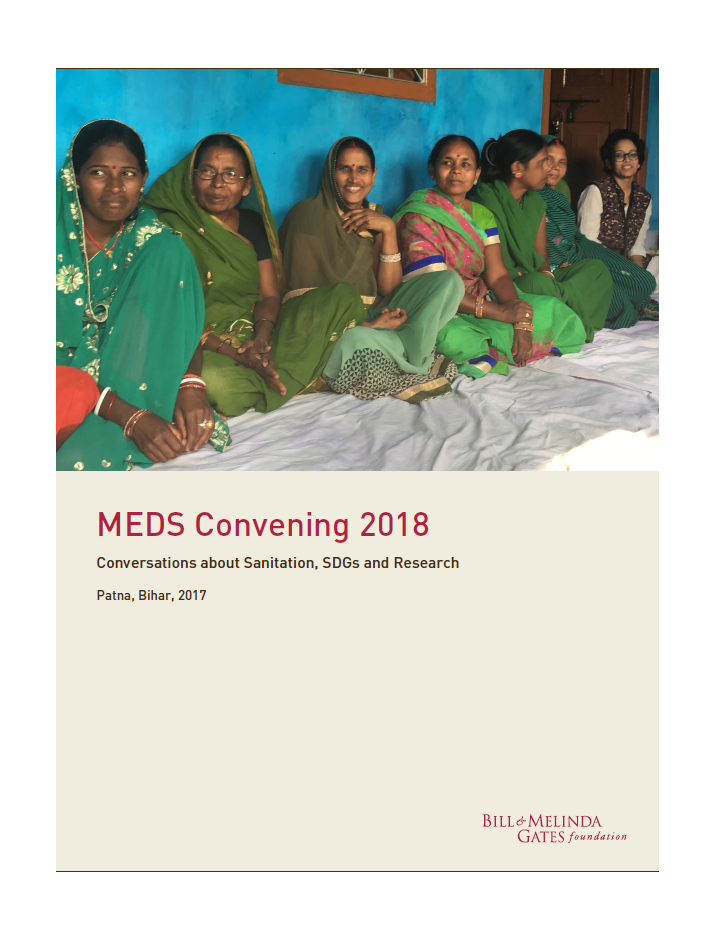 Published in: 2018
Pages: 36
Publisher:
Bill & Melinda Gates Foundation, Seattle, USA
Author:
BMGF
Uploaded by:
SuSanA Admin
Partner profile:
common upload
---
4395 Views
53 Downloads
---
Location of library entry
The Measurement, Evidence, and Dissemination, for Scale (MEDS) initiative was created by merging the Measurement, Learning and Evaluation (MLE) initiative with the Building Demand for Sanitation (BDS) initiative at the end of 2015. The 2017 MEDS Convening was the 2nd convening under MEDS but the 6th annual meeting for many of the participants, formally convening under the BDS portfolio.

In 2017, the MEDS grantees convened in Patna, the capital of the 3rd largest Indian State of Bihar. The sanitation challenge in India is unique in its scale and nature for a nation state. Out of the 829 million people in the world who defecate in the open, 524 million reside in India. Regionally, India accounts for 90 per cent of the people in South Asia who defecate outside. Open defecation is still almost universal among the poorest 20 per cent of the population. The populous and northern state of Bihar is considered one of the least developed Indian States. 54% of the population lie below the poverty line. It has a history of political instability and low government investment. Less than a third of households in rural Bihar have access to a toilet and 12% of India's open defecation burden lies in Bihar.

This report is structured into 5 sections. The introduction presents the convening aims and format with a brief overview of our host location Patna in Bihar State, India. The second section provides a quick overview of the current and recently completed MEDS portfolio projects, and their overall focus. Section three is dedicated to the convening activities themselves, where we have kept some granular detail of the exchanges, discussions and observations which took place during the convening. This section may useful as an aide memoire for participants. Section four focuses on learning and reflection which is a core part of the MEDS convenings. Much of the content here is provided by convening participants either through thematic commentators or plenary reflection. It gives some insight into the collective learning and reflection by the end of the week rather than a position of any one person, or organization. Section five concludes this report.
Bibliographic information
BMGF (2018). MEDS Convening 2018 - Conversations about Sanitation, SDGs and Research. Bill & Melinda Gates Foundation, Seattle, USA
Filter tags
East Asia & Pacific English Faecal sludge treatment processes Urban informal settlements (slums)
Download