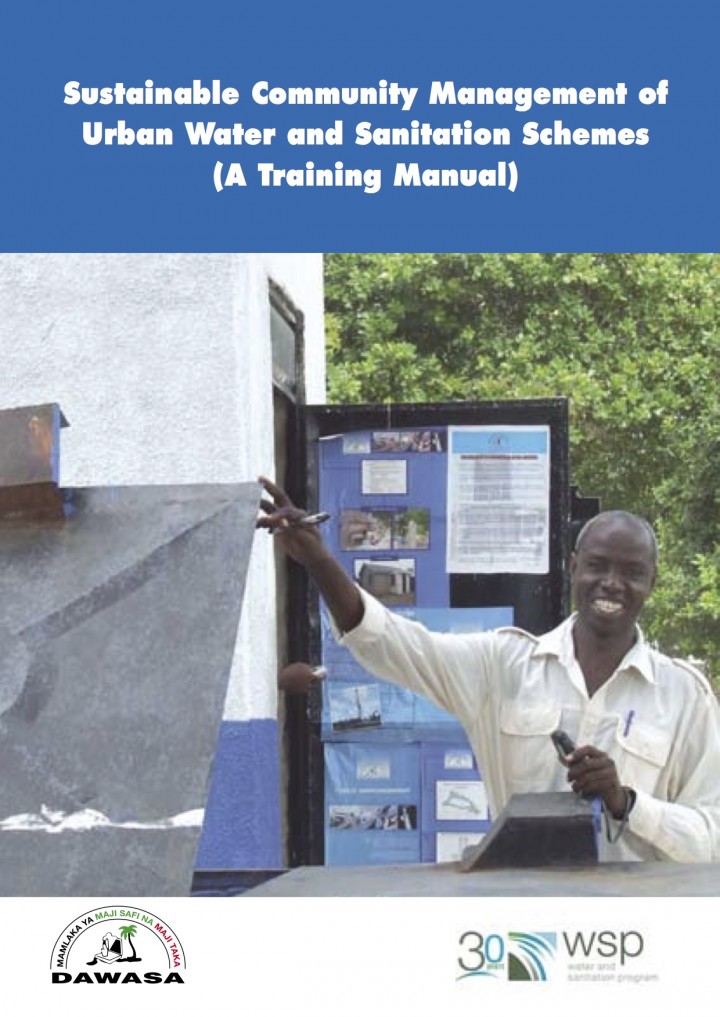 Published in: 2009
Pages: 56
Publisher:
Water and Sanitation Program (WSP) - Africa, Nairobi, Kenya
Author:
Castro, V., Msuya, N., Makoye, C.
Uploaded by:
Sterenn Philippe
Partner profile:
Water and Sanitation Program
---
727 Views
0 Downloads
---
Location of library entry
The aim of this capacity building programme is to improve the ef ciency and positive impact of urban, community-managed water and sanitation schemes. The manual was originally developed in collaboration with the Dar es Salaam Water and Sewerage Authority's (DAWASA) Community Water Supply and Sanitation Program (CWSSP); but some of the material is applicable to other urban communities who may need to improve their management practices and increase the likelihood of a sustainable operation.

The material is especially relevant for communities who have a relationship with the main water services provider and who are also committed to hiring an Operations Manager. The Operations Manager should be a paid employee and his/ her performance should be reviewed by the beneficiaries.

The material included in this manual is intended to provide a trainer with the tools and information to build management capacity in the target communities. Although the manual is geared for trainers, it has also been designed to serve as a reference tool for communities who may wish to review the material on an on-going basis.
The manual covers technical issues such as operations and maintenance activities—but also has a strong focus on institutional, managerial and nancial issues. The seven modules are meant to equip communities with the tools to eliminate or reduce the major constraints in managing infrastructure and providing services. The manual also aims to clarify the roles and responsibilities of all stakeholders.

The target audience for the training is the communities who are actually managing WSS schemes. However, others who support these schemes (government, planners and donors) will also and the manual useful for helping to ensure that communities have the appropriate skills to manage their infrastructure schemes.

The courses in this training manual are based on participatory training methodologies, an important feature of which is to draw on the experiences of all the participants, under the guidance of an experienced facilitator. The participants will likely range from those with extensive experience to those with no experience managing a water supply and /or sanitation scheme. However, where possible, the trainer should encourage sharing of ideas and experiences throughout the training.
Bibliographic information
Castro, V., Msuya, N., Makoye, C. (2009). Sustainable Community Management of Urban Water and Sanitation Schemes (A Training Manual). Water and Sanitation Program (WSP) - Africa, Nairobi, Kenya
Filter tags
English Middle East & Nothern Africa Sub-Saharan Africa Trainer manuals (adult learning)
Information on external sites