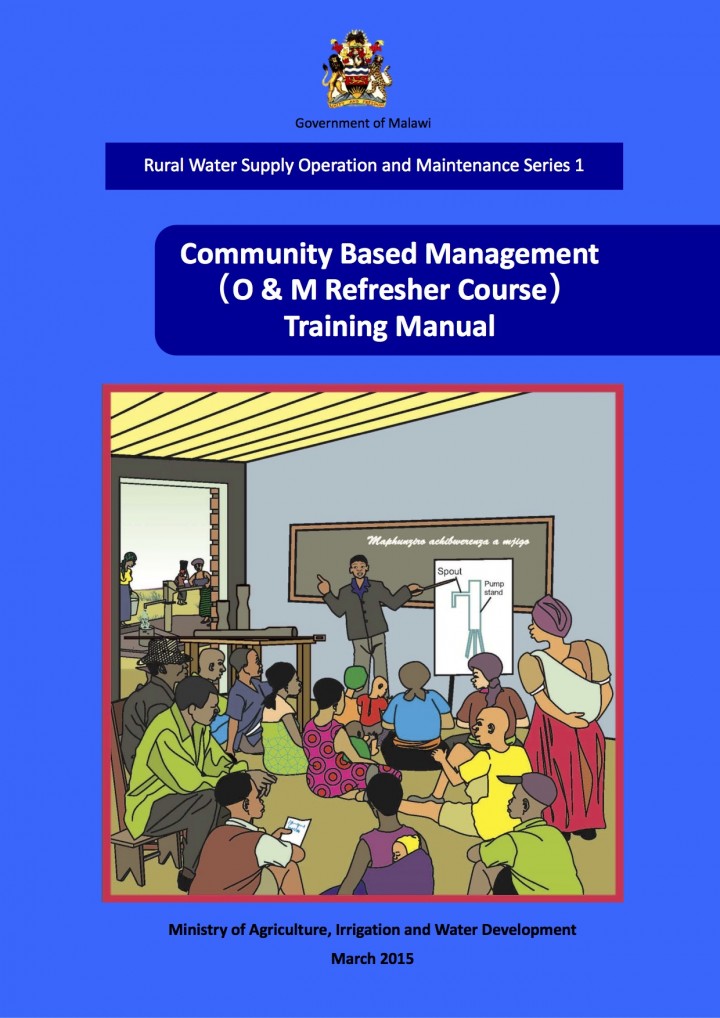 Published in: 2015
Pages: 140
Publisher:
Ministry of Agriculture, Irrigation and Water Development (MoAIWD), Lilongwe, Malawi
Author:
MoAIWD
Uploaded by:
Sterenn Philippe
Partner profile:
common upload
---
850 Views
0 Downloads
---
Location of library entry
Currently, the community based management (CBM) training is provided to the beneficiaries only when the water supply facilities are first constructed (before and after construction). However, several years could pass after construction before the water supply facilities begin to deteriorate and break down, requiring maintenance. Therefore, it is likely that, for a few years after construction, the beneficiaries never make use of what has been learned in the CBM training, and do not carry out appropriate maintenance on many of the facilities. When the water supply facilities begin to deteriorate, the Water Point Committee (WPC) members who received training may have forgotten what they learned, or the WPC may have different members, and Area Mechanics (AMs) or spare
parts supply retail shops may also differ from the time when the CBM training was provided.

Additionally, since the CBM training was introduced in the 1990's to cover only newly-constructed water supply facilities, communities with water supply facilities that were constructed before the introduction of the CBM training are not trained. Therefore, communities operating water supply facilities that were constructed before the introduction of CBM have not received any CBM training and do not know the existing framework, such as responsibilities of communities towards their water supply facilities and the responsibilities of the district and the national governments.

To overcome these challenges, the institutionalization of the CBM Operation and Maintenance (O&M) refresher training was proposed. If the beneficiaries receive refresher training once every few years in addition to training at the time of construction, communities with water supply facilities in need of repair will be able to deal with the situation appropriately and will have the opportunity to express their needs to the district and national governments, which in turn can make use of this opportunity to determine the current status of water supply facilities. Consequently, this might help in reducing the non-functionality rate of water supply facilities in the country.The different modules in this training manual were selected based on problems faced by WPC members regarding the operation and maintenance of their boreholes through a baseline survey conducted in 2011 that covered about 1,000 boreholes in Mchinji district.
Bibliographic information
MoAIWD (2015). Rural Water Supply Operation and Maintenance Series 1 - Community Based Management (O & M Refresher Course) Training Manual. Ministry of Agriculture, Irrigation and Water Development (MoAIWD), Lilongwe, Malawi
Filter tags
English Sub-Saharan Africa Trainer manuals (adult learning)
Information on external sites