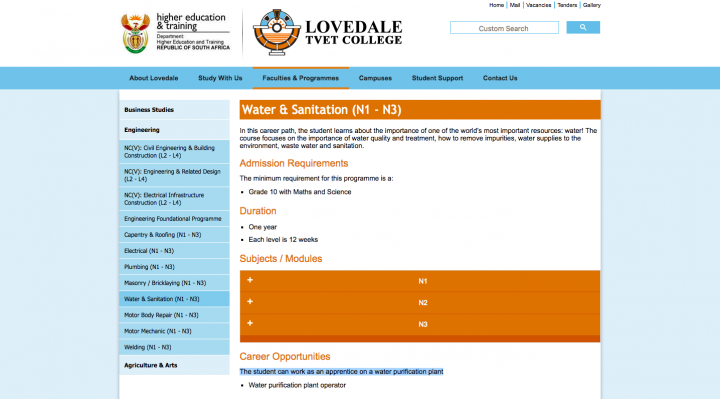 Published in: 2018
Publisher:
Loveland TVET College, King William's Town, South Africa
Author:
Loveland TVET College
Uploaded by:
Sterenn Philippe
Partner profile:
common upload
---
490 Views
0 Downloads
The mission of Loveland TVET College is to produce high quality products and have a visible impact on social and economic development by:

- offering programmes of international standard, through the formation of strong linkages with key stakeholders and focusing on the holistic development of learners; and

- being a well-capacitated, accessible, credible, and self-sustaining TVET College, with flexible and dynamic programmes which are responsive to the needs of the community, public and private sectors.

In this career path, the student learns about the importance of one of the world's most important resources: water! The course focuses on the importance of water quality and treatment, how to remove impurities, water supplies to the environment, waste water and sanitation. The student can work as an apprentice on a water purification plant.
Bibliographic information
Loveland TVET College (2018). Water & Sanitation (N1-N3). Loveland TVET College, King William's Town, South Africa
Filter tags
English Sub-Saharan Africa Syllabus and course outlines (adult learning)
Information on external sites