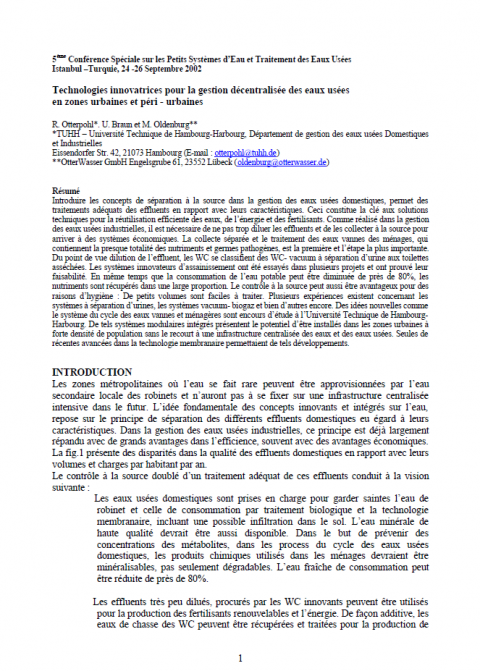 Published in: 2002
Author:
Otterpohl, R., Braun, U., Oldenburg, M.
Uploaded by:
SuSanA secretariat
Partner profile:
common upload
---
4088 Views
31 Downloads
Content - Summary
Introduire les concepts de séparation à la source dans la gestion des eaux usées domestiques, permet des traitements adéquats des effluents en rapport avec leurs caractéristiques. Ceci constitue la clé aux solutions techniques pour la réutilisation efficiente des eaux, de l'énergie et des fertilisants. Comme réalisé dans la gestion des eaux usées industrielles, il est nécessaire de ne pas trop diluer les effluents et de les collecter à la source pour arriver à des systèmes économiques. La collecte séparée et le traitement des eaux vannes des ménages, qui contiennent la presque totalité des nutriments et germes pathogènes, est la première et l'étape la plus importante. Du point de vue dilution de l'effluent, les WC se classifient des WC- vacuum à séparation d'urine aux toilettes asséchées. Les systèmes innovateurs d'assainissement ont été essayés dans plusieurs projets et ont prouvé leur faisabilité. En même temps que la consommation de l'eau potable peut être diminuée de près de 80%, les nutriments sont récupérés dans une large proportion. Le contrôle à la source peut aussi être avantageux pour des raisons d'hygiène : De petits volumes sont faciles à traiter. Plusieurs expériences existent concernant les systèmes à séparation d'urines, les systèmes vacuum- biogaz et bien d'autres encore. Des idées nouvelles comme le système du cycle des eaux vannes et ménagères sont encours d'étude à l'Université Technique de Hambourg-Harbourg. De tels systèmes modulaires intégrés présentent le potentiel d'être installés dans les zones urbaines à forte densité de population sans le recourt à une infrastructure centralisée des eaux et des eaux usées. Seules de récentes avancées dans la technologie membranaire permettaient de tels développements.
Bibliographic information
Otterpohl, R., Braun, U., Oldenburg, M. (2002). Technologies innovatrices pour la gestion décentralisée des eaux usées en zones urbaines et peri-urbaines (in French) - Innovative technologies for decentralised management of waste water in urban and peri-urban areas.
Filter tags
Biogas systems French Peri-urban Urban (entire city) Urine diversion dehydration toilets (UDDTs)
Download