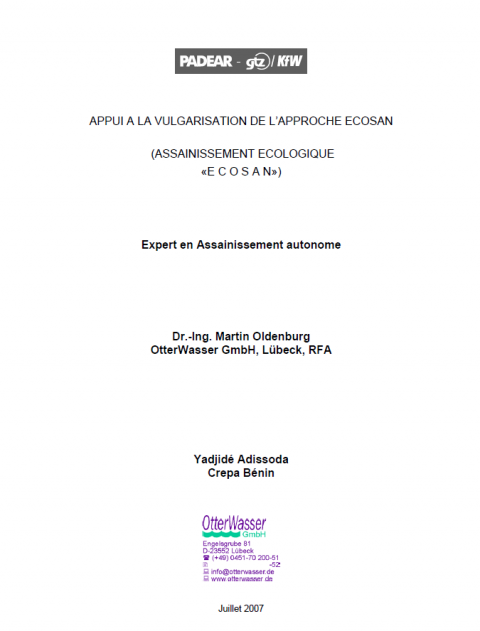 Published in: 2007
Author:
Oldenburg, M., Adissoda, Y.
Uploaded by:
SuSanA secretariat
Partner profile:
common upload
---
3561 Views
20 Downloads
Content - Summary
Dans le cadre du projet d'approvisionnement en eau en milieu rural PADEAR au Bénin, projet soutenu par le GTZ et le KfW, il a été proposé au cours de la première partie de la mission en juillet 2006 l'adoption de toilettes sèches avec séparation des urines comme installation sanitaire pour la zone lacustre, cette zone étant régulièrement inondée et comportant des habitations très rapprochées les unes des autres. Puisque cette région a un apport d'engrais déjà satisfaisant du fait des inondations régulières, il n'existe pas de besoin en engrais supplémentaires issus des déchets humains, ce qui explique le manque d'adhésion en ce qui concerne ces toilettes. De ce fait, l'accent été mis dans la deuxième partie de la mission en avril 2007, dont le ce travail constitue le rapport, sur la vidange et le traitement des boues issues des latrines publiques dans la commune des Aguésgués. Dans cette perspective, on a élaboré une alternative au projet de traitement centralisé à Porto-Novo qui avait été fait, à savoir un projet décentralisé avec des surfaces plantées de séchage des boues. En plus d'une évaluation technique, une évaluation économique est menée. Cette évaluation économique met en avant le fait que les frais engagés pour les surfaces de séchage des boues sont moindres. Nous proposons donc de procéder par étapes, en commençant par un bassin-pilote. Celui-ci pourra être complété par d'autres bassins à la suite des premières expériences.
Bibliographic information
Oldenburg, M., Adissoda, Y. (2007). Appui a la vulgarisation de l'approche ecosan. Assainissement écologique (in French) - Support to the promotion of the ecosan approach. Ecological sanitation.
Filter tags
French Peri-urban Sub-Saharan Africa Urban (entire city) Urine diversion dehydration toilets (UDDTs)
Download