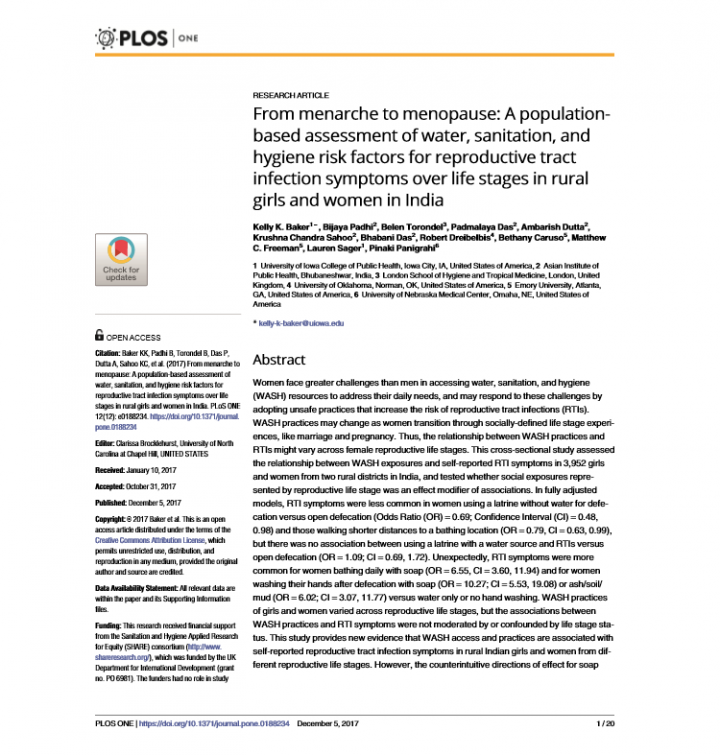 Published in: 2017
Pages: 20
Publisher:
PLOS ONE
Author:
Baker KK, Padhi B, Torondel B, Das P, Dutta A, Sahoo, K. C., Das, B., Dreibelbis, R., Caruso, B., Freeman, M. C., Sager, L., Panigrahi, P.
Uploaded by:
SuSanA Admin
Partner profile:
common upload
---
1157 Views
2 Downloads
---
Location of library entry
Women face greater challenges than men in accessing water, sanitation, and hygiene (WASH) resources to address their daily needs, and may respond to these challenges by adopting unsafe practices that increase the risk of reproductive tract infections (RTIs). WASH practices may change as women transition through socially-defined life stage experiences, like marriage and pregnancy. Thus, the relationship between WASH practices and RTIs might vary across female reproductive life stages. This cross-sectional study assessed the relationship between WASH exposures and self-reported RTI symptoms in 3,952 girls and women from two rural districts in India, and tested whether social exposures represented by reproductive life stage was an effect modifier of associations.
Bibliographic information
Baker KK, Padhi B, Torondel B, Das P, Dutta A, Sahoo, K. C., Das, B., Dreibelbis, R., Caruso, B., Freeman, M. C., Sager, L., Panigrahi, P. (2017). From menarche to menopause: A population-based assessment of water, sanitation, and hygiene risk factors for reproductive tract infection symptoms over life stages in rural girls and women in India. PLOS ONE
Filter tags
Asia & Pacific English
Download