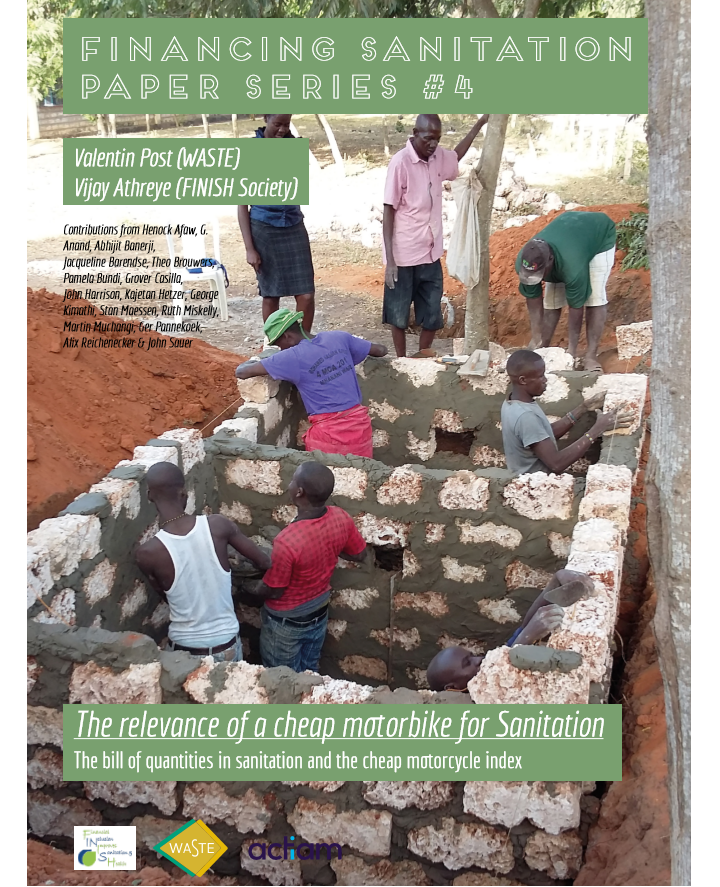 Published in: 2017
Pages: 30
Publisher:
FINISH Society, WASTE Netherlands, actiam
Author:
Post, V., Athreye, V.
Uploaded by:
SuSanA Admin
Partner profile:
common upload
---
2301 Views
35 Downloads
In the world of sanitation, cost is often mentioned as important though seldom scrutinized. Perhaps strange is one considers that cost is one of the main reported reasons for people not having a toilet. Reducing costs while maintaining quality is a key driver of WASTE's sanitation programmes. Yet even in our own programmes it is notoriously difficult to compare costs of sanitation systems within countries, let alone between countries.

There are several reasons for this, people use different systems, different units, and currencies. Most complex though is the local context of sanitation, dry systems, wet systems, high groundwater tables etc. But what if we could disentangle the context, can cost comparisons be made possible? Through the sanitation decision support tool, an attempt was made to make rational sanitation decision based on contextual factors, yet costs have not been added yet. IRC tried another route through Life Cycle Analysis Cost.

Cost comparisons remain difficult though. As we are working with banks and micro finance institutions and they have to develop financial products, we needed to find a solution for this. This paper describes our solution.

To get more insight in an important element in household sanitation, its actual cost, we (Valentin Post and Vijay Athreye) have written this paper. The paper gives bills of quantities (different sanitation system). For local context, the cheap motorcycle index is introduced.

Without our contributors Henock Belete Afaw, G. Anand, Abhijit Banerji, Jacqueline Barendse, Pamela Bundi, John Harrison, Kajetan Hetzer, George Kimathi, Stan Maessen, Ruth Miskelly, Martin Muchangi, Ger Pannekoek, Alix Reichenecker, John Sauer & Theo Brouwers, this paper would not have seen the light of day.
Bibliographic information
Post, V., Athreye, V. (2017). Financing Sanitation Paper Series Nr.4. FINISH Society, WASTE Netherlands, actiam
Filter tags
English Europe & Central Asia
Download