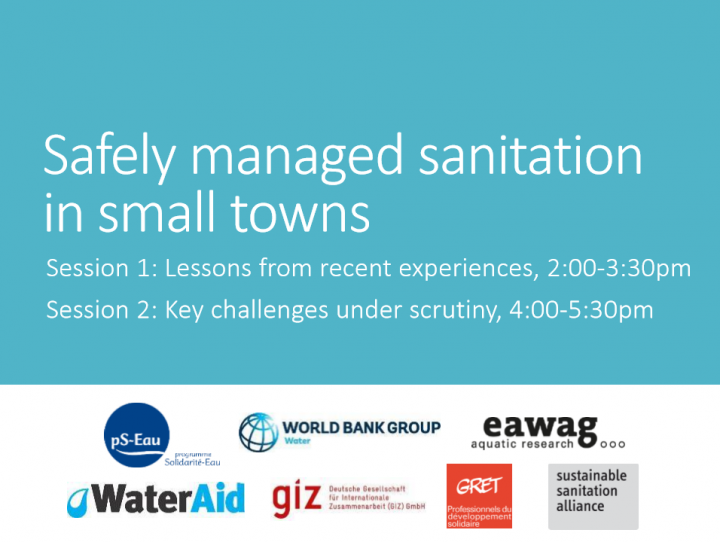 Published in: 2017
Author:
Eawag-Sandec, GIZ, Gret, pS-Eau, SuSanA, WaterAid, World Bank
Uploaded by:
SuSanA Admin
Partner profile:
common upload
---
2212 Views
128 Downloads
---
Location of library entry
During the 2017 Stockholm World Water Week, SuSanA co-convened the event "Safely managed sanitation in small towns".

As a UN Habitat report highlighted, "between 20 to 50% of the population in most low and middle income countries live in small urban centres or large villages with small urban centres characteristics". Small towns are often too small to have conventional sanitation infrastructures such as sewerage, but are also too big to benefit from the sanitation approaches used in rural areas. Sanitation services are therefore often non-functional or inexistent in small towns. The first session of the event, a so-called "marketplace", was set up for different organisations to present their "lessons learnt" from recent experiences in Nepal, Ethiopia, Brazil, and a few other regions. The different challenges identified by the presentations highlighted the specificity of the context of small towns.
At the end of the session, participants were invited to vote for three topics which were then discussed in the following session. As a result, special attention was given to the topics "Financial viability of sanitation services in small towns" and "Capacity building for sanitation service in small towns". Lastly the question "What are the incentives for small towns to develop sanitation services?" was debated about. It was agreed that aspiration, desire to model other city/person, emulation between individual/collective seem to get good results in the context of small cities.
Bibliographic information
Eawag-Sandec, GIZ, Gret, pS-Eau, SuSanA, WaterAid, World Bank (2017). Safely managed sanitation in small towns.
Filter tags
English Peri-urban Presentations Sub-Saharan Africa
Download