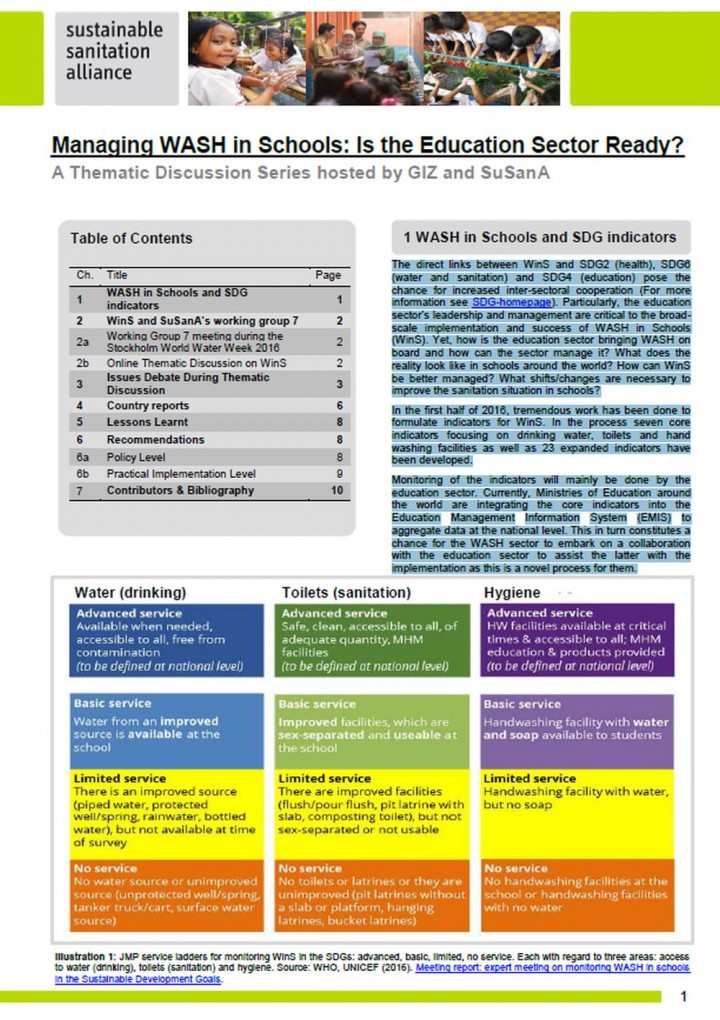 Published in: 2016
Pages: 10
Publisher:
Sustainable Sanitation Alliance, Germany
Author:
Dauenhauer, K., Schlenk, J., Langkau, T.
Uploaded by:
SuSanA Admin
Partner profile:
common upload
---
7609 Views
252 Downloads
The direct links of WinS to SDG3 (health), SDG4 (education) and SDG6 (water and sanitation) pose the chance for increased inter-sectoral cooperation. Thereby, the education sector's leadership and management are critical to broad-scale implementation and success of WinS. Yet, how is the education sector taking WASH on board and how can the sector manage it? How does the reality look like in schools around the world? What does it take for better-managed WinS? What shifts/changes are necessary to see the situation change?

During the Stockholm World Water Week 2016, working group 7 hosted a meeting on the topic of WASH in schools, followed by a two-week online discussion on the SuSanA forum. The discussion was structured around two themes:

(1) Policy Issues on the Regional and Global Level and
(2) Implementation Level

The main outcomes of the discussion are covered in the synthesis report.
Bibliographic information
Dauenhauer, K., Schlenk, J., Langkau, T. (2016). Managing WASH in Schools: Is the Education Sector Ready? - A Thematic Discussion Series hosted by GIZ and SuSanA. Sustainable Sanitation Alliance, Germany
Filter tags
English Publications by SuSanA Publications by SuSanA
Download