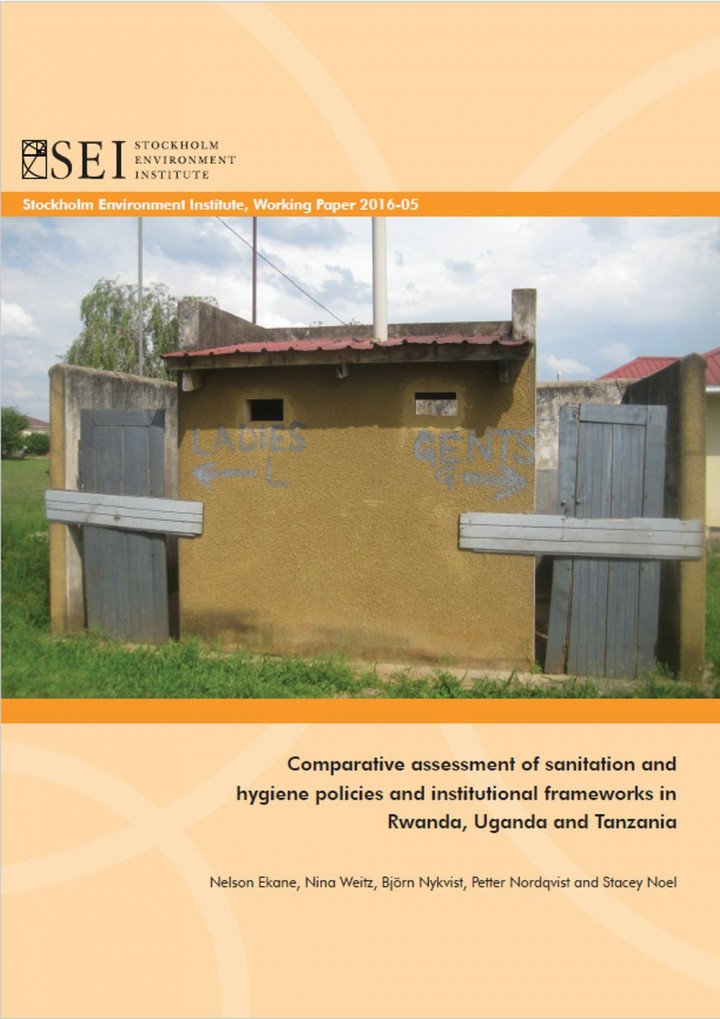 Published in: 2016
Pages: 34
Publisher:
Stockholm Environment Institute, Sweden
Author:
Ekane, N. et al.
Uploaded by:
SuSanA Admin
Partner profile:
common upload
---
3814 Views
59 Downloads
---
Location of library entry
Policies are considered critical for creating an enabling environment for improving access to sanitation and hygiene services. There are, however, certain requirements that policies must meet for them to be coherent and supportive. This paper presents a comparative assessment of the sanitation policy and institutional frameworks in Rwanda, Uganda and Tanzania based on a set of recommended criteria that comprehensive and supportive sanitation policies should meet.

This assessment finds that the policies in Rwanda, Uganda, and Tanzania meet many of the recommended criteria, but are still lacking key aspects to adequately cater for sustainability of services and functionality of facilities. Further, policies should reflect the needs and preferences of people. This is usually not the case because policies are very ambitious and hard to fully translate to action. Despite the existence of policies, the implementation process is flawed in many ways, and two key gaps are the lack or inadequate financing for sanitation, and serious lack of technical capacity, especially at the district level. Furthermore, the assessment shows that the policy and institutional framework for sanitation and hygiene differs from country to country. Rwanda and Uganda have separate sanitation and hygiene policies while Tanzania is still in the process of developing a separate sanitation policy. The paper also shows that even though there are still serious shortfalls shortfalls that hindered the achievement of the sanitation MDG in Uganda and Tanzania in particular, major reforms in the sector have undoubtedly contributed to improved sector performance in all the three countries. Regionally, access to improved sanitation in SSA is on a gradual increase while the practice of open defecation is decreasing. On a country level, however, there are significant variations in performance between countries, with countries like Rwanda making remarkable progress in sanitation and hygiene coverage.
Bibliographic information
Ekane, N. et al. (2016). Comparative assessment of sanitation and hygiene policies and institutional frameworks in Rwanda, Uganda and Tanzania. Stockholm Environment Institute, Sweden
Filter tags
English Operation, maintenance and sustainable services (WG10)
Further readings
Download