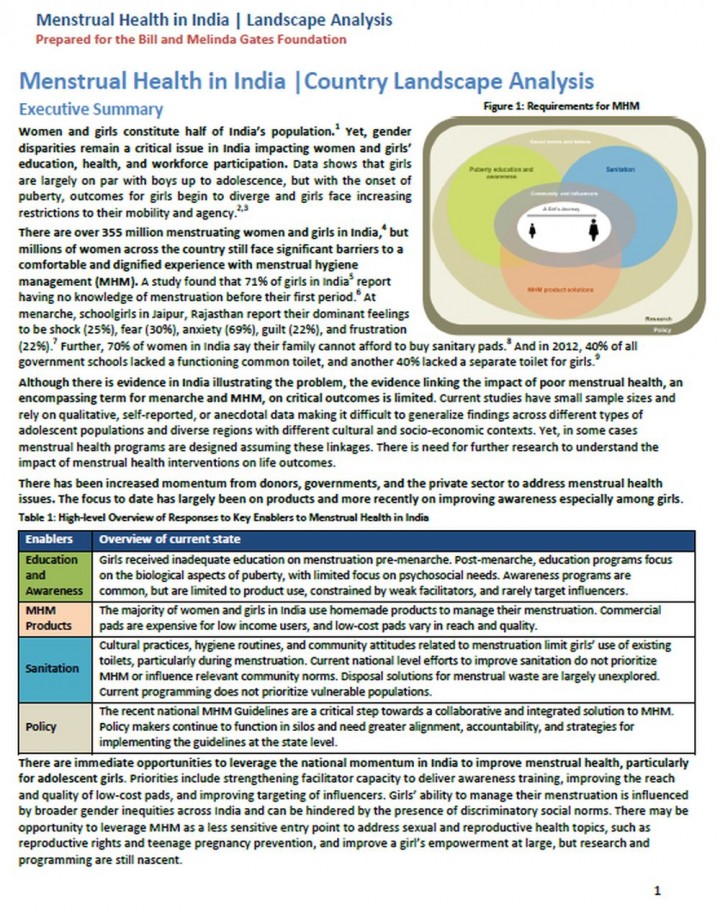 Published in: 2016
Pages: 25
Publisher:
FSG
Author:
FSG
Uploaded by:
SuSanA Admin
Partner profile:
common upload
---
4068 Views
113 Downloads
---
Location of library entry
This report seeks to understand:
(1) the current state of girls' experience with menarche and MHM in India,
(2) donor, government, NGO, and company responses to girls' needs, and
(3) opportunities for research, advocacy, and programming to better address these needs.

This complements a Global Landscape Analysis and is one of three Country Landscape Analyses focused on India, Kenya, and Ethiopia.

This report is the result of a review of over 60 peer-reviewed articles and grey literature, over 30 interviews with experts and practitioners in India, and a review of relevant programming focused on menstrual health. While experts interviewed for this research highlighted that gender inequality and hence, the state of MHM was likely to be worse in the northern states like Uttar Pradesh (UP) and Bihar as compared to southern states like Tamil Nadu, they did not indicate any evidence that MHM interventions were more prevalent, better organized, or more effective or in one Indian state over the another.

The country research for India was also informed by 72 interviews with adolescent girls from rural and urban areas near Kanpur, UP, and Coimbatore, Tamil Nadu between November and December 2015 in the following categories: (1) early post-menarche 0 to 1 year post-menarche, (2) post-menarche 1 to 3 years post-menarche, and (3) late post-menarche 3+ years post-menarche up to 18 years old. Interviews were also conducted with 32 influencers including mothers, sisters, teachers, and community health care workers. This user-research is not meant to be representative of all adolescent girls in UP and Tamil Nadu. It is meant to bring the voice of adolescent girls where possible and illustrate distinct profiles of girls, whose needs may vary based on their context, requiring different intervention strategies. The regions were selected based on the following criteria (1) diversity in economic prosperity, (2) existing funding or focus for the Foundation, and (3) diversity in cultural, religious, and language background.
Bibliographic information
FSG (2016). Menstrual Health in India - Country Landscape Analysis. FSG
Filter tags
Asia & Pacific English
Download