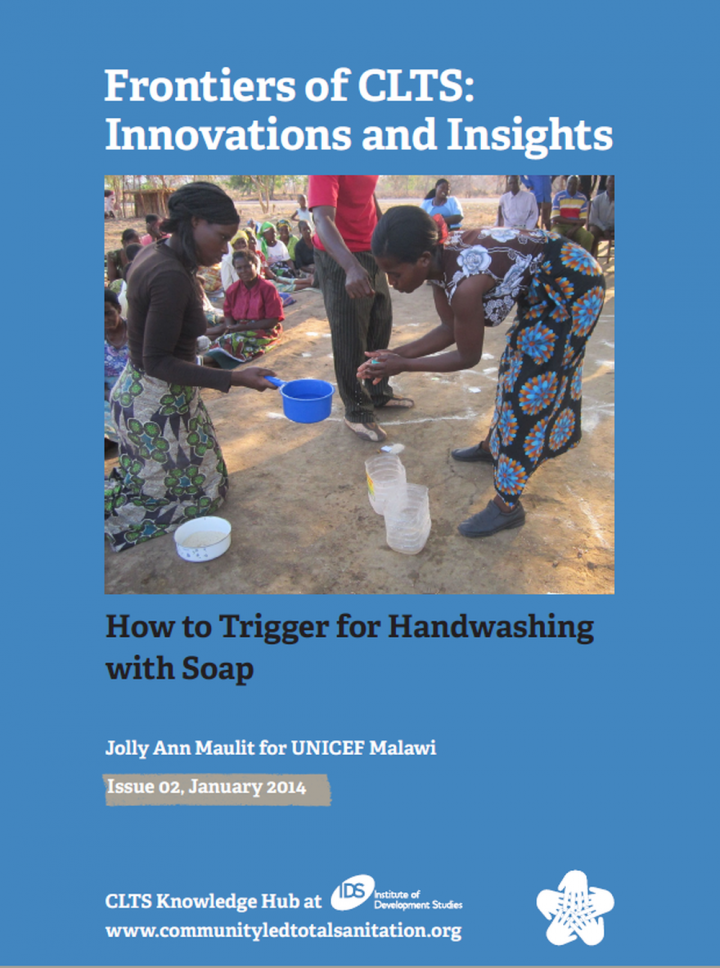 Published in: 2014
Pages: 16
Publisher:
Institute of Development Studies, University of Sussex, Brighton, United Kingdom
Author:
Maulit, J. A.
Uploaded by:
SuSanA Admin
Partner profile:
common upload
---
3966 Views
57 Downloads
The Open Defecation Free (ODF) Malawi 2015 Strategy and National Hand Washing Campaign have been contributing to an increased focus on handwashing with soap (HWWS) in Malawi.1 This is a very positive development!

Some studies estimate that washing hands with soap can reduce diarrhoeal disease rates by up to 50 per cent and respiratory disease rates by up to 25 per cent. This makes handwashing with soap one of the most cost-effective interventions for reducing illness and preventable deaths among children in Malawi. It is therefore quite worthwhile for us to be working together to increase handwashing practices.

Since Community-Led Total Sanitation (CLTS) is our key intervention for sanitation and hygiene promotion in Malawi, it provides an excellent opportunity to facilitate handwashing behaviour change. However, up till now, the 'triggering tools' for achieving HWWS behaviour change from CLTS have not been well known by implementers in Malawi. The purpose of this document is to outline several practical tools which can be used as a part of CLTS in order to trigger realisation among communities of the importance of handwashing with soap, as well as eliminating open defecation.
Bibliographic information
Maulit, J. A. (2014). How to trigger for handwashing with soap - Frontiers of CLTS: Innovations and Insights Issue 2. Institute of Development Studies, University of Sussex, Brighton, United Kingdom
Filter tags
Behaviour change (WG13) English
Download