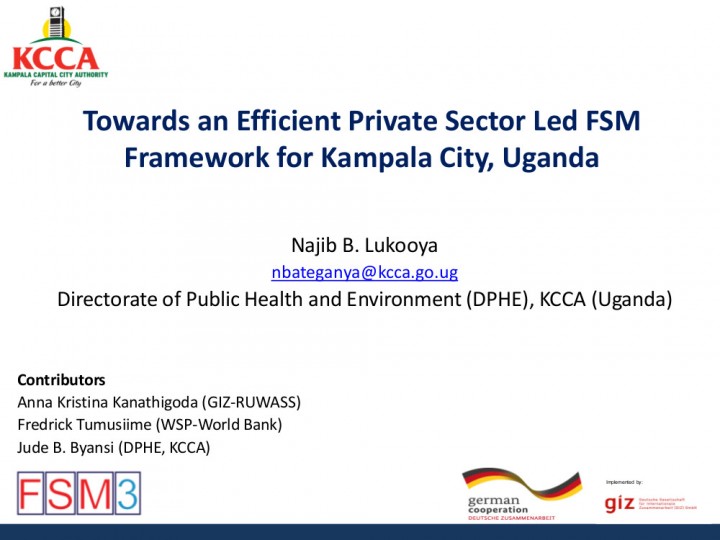 Published in: 2015
Publisher:
Kampala Capital City Authority (KCCA)
Author:
Lukooya, N. B. et al.
Uploaded by:
danijela milosevic
Partner profile:
common upload
---
3491 Views
69 Downloads
---
Location of library entry
This library entry contains background documents for a grant that Daniel Okello (Phase 1) and Najib B. Lukooya (Phase 2) are leading and which is funded by the Bill and Melinda Gates Foundation.

Further information is also available on the SuSanA discussion forum, see link below.
Content - Summary
Short description of the project:
The project was research-based and focused on assessing a private sector service delivery model for improving FSM in Kampala City.

The specific objectives of the study included:
- Profiling the Kampala sanitation market
- Analyzing the existing policy, legal and institutional framework related to FSM
- Investigating the applicability of binding service level agreements (SLAs)
- Development of feasible business/financial models for FSM in Kampala

The grant has two phases:
- Phase1 (March – October, 2014): KCCA was among 10 cities selected and given a research grant to engage in a study that has informed a full proposal to solicit for a bigger grant
- Phase 2: December 2015 until December 2018

+++++++++++
Documents available for download below:

1 - Presentation: Towards an Efficient Private Sector Led FSM Framework for Kampala City, Uganda; presented at BMGF-DfiD City Partners Meeting (http://www.susana.org/en/resources/conference-materials-2/2015/266-bmgf-dfid-cities) in Hanoi, Vietnam, Jan. 2015 (by Najib B. Lukooya)
Bibliographic information
Lukooya, N. B. et al. (2015). Improving faecal sludge (FS) management for on-site sanitation in Kampala City, Uganda - Various documents on results from research grant. Kampala Capital City Authority (KCCA)
Filter tags
English Faecal sludge treatment processes Peri-urban Practitioners Sub-Saharan Africa Urban (entire city)
Information on external sites
Download