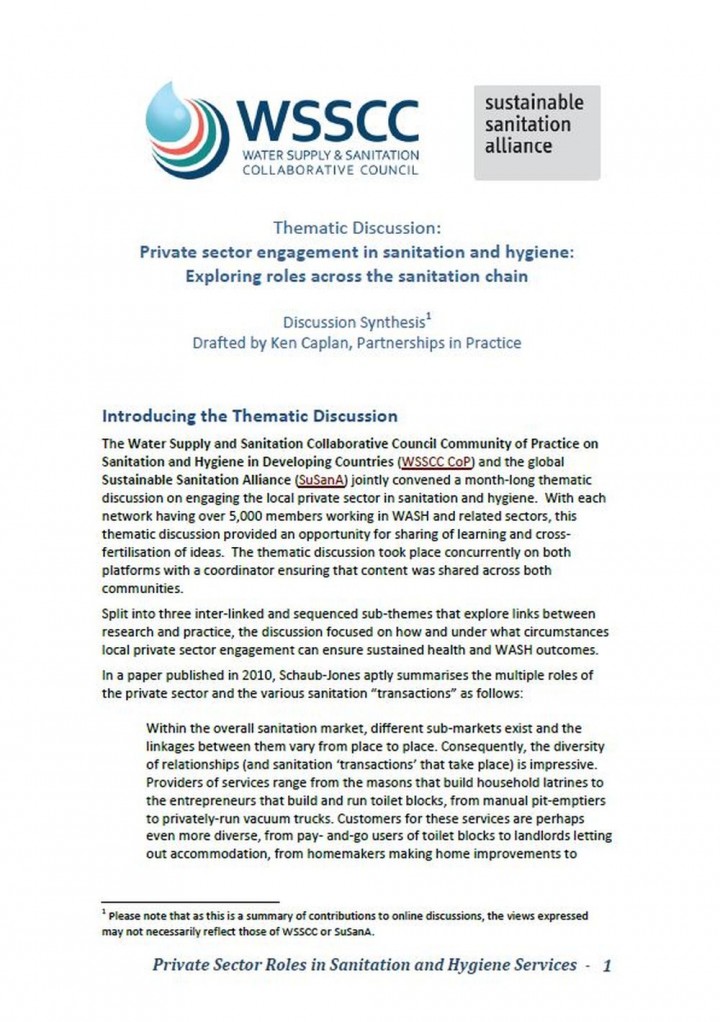 Published in: 2015
Pages: 16
Publisher:
Water Sanitation & Supply Collaborative Council (WSSCC); Sustainable Sanitation Alliance (SuSanA)
Author:
Caplan, K.
Uploaded by:
SuSanA Admin
Partner profile:
common upload
---
3464 Views
97 Downloads
Content - Summary
The Water Supply and Sanitation Collaborative Council Community of Practice on Sanitation and Hygiene in Developing Countries (WSSCC CoP) and the global Sustainable Sanitation Alliance (SuSanA) jointly convened a month-long thematic discussion on engaging the local private sector in sanitation and hygiene. With each network having over 5,000 members working in WASH and related sectors, this thematic discussion provided an opportunity for sharing of learning and cross-fertilisation of ideas. The thematic discussion took place concurrently on both platforms with a coordinator ensuring that content was shared across both communities.

Split into three inter-linked and sequenced sub-themes that explore links between research and practice, the discussion focused on how and under what circumstances local private sector engagement can ensure sustained health and WASH outcomes.

In a paper published in 2010, Schaub-Jones aptly summarises the multiple roles of the private sector and the various sanitation "transactions" as follows:

Within the overall sanitation market, different sub-markets exist and the linkages between them vary from place to place. Consequently, the diversity of relationships (and sanitation 'transactions' that take place) is impressive. Providers of services range from the masons that build household latrines to the entrepreneurs that build and run toilet blocks, from manual pit-emptiers to privately-run vacuum trucks. Customers for these services are perhaps even more diverse, from pay- and-go users of toilet blocks to landlords letting out accommodation, from homemakers making home improvements to tenants emptying a shared latrine. Most sanitation transactions taking place in this context have little direct involvement of public authorities.

With this diverse context in mind and with a view to expanding sanitation markets, reducing negative consequences and harnessing positive externalities, the sub-themes of the online discussion focused in turn on:

- Working with the private sector to raise demand through sanitation marketing and financing options including access to household credit, financing for local entrepreneurs or via other means;

- Encouraging, enabling and supporting the private sector to meet demand at the household level (product delivery, toilet construction, emptying services, etc.);

- Fostering the role of the local private sector further along the sanitation chain in transport, disposal and reuse to responsibly manage waste.

For each area, key questions revolved around the business models and financing options that hold promise, the role of government and external agencies in enabling and supporting enterprise development, and the design of appropriate regulation for small and medium enterprises.

This summary blends the discussions online with a sampling of the numerous resources available on the topic. Indeed the focus on sanitation as a business and sanitation entrepreneurs has mushroomed in recent years with numerous organisations (donors, research institutes and think tanks, NGOs, and impact investor / philanthropist foundations, amongst others) exploring the topic. SuSanA Forum and WSSCC Community of Practice readers are very much encouraged to help expand the resource base on the topic using this link.
Bibliographic information
Caplan, K. (2015). Thematic Discussion: Private sector engagement in sanitation and hygiene: Exploring roles across the sanitation chain - Discussion Synthesis. Water Sanitation & Supply Collaborative Council (WSSCC); Sustainable Sanitation Alliance (SuSanA)
Filter tags
Educators English Journalists Politicians and local decision makers Practitioners
Download