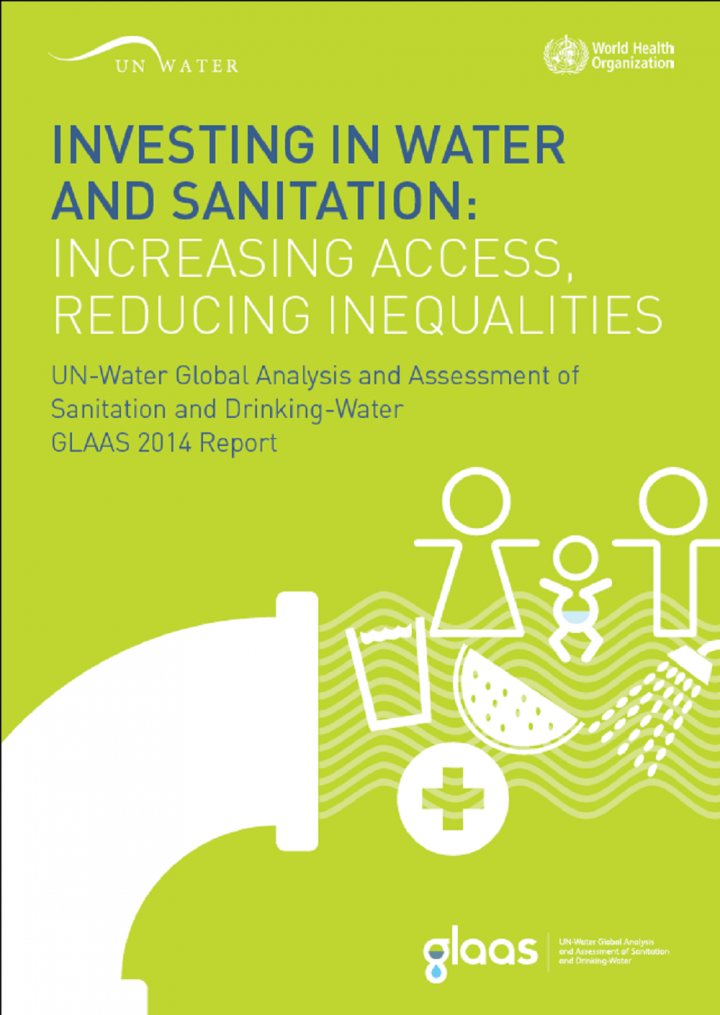 Published in: 2014
Pages: 108
Publisher:
World Health Organization, Geneva, Switzerland
Author:
WHO
Uploaded by:
SuSanA Admin
Partner profile:
common upload
---
3167 Views
50 Downloads
Content - Summary
The urgent need for increased access to water, sanitation and hygiene (WASH) services is a key theme of this report. The UN-Water Global Analysis and Assessment of Sanitation and Drinking-Water (GLAAS 2014) led by WHO on behalf of UN-Water, draws on data from 94 countries and 23 external support agencies. It is the most comprehensive report, to date, on country efforts and approaches to extend WASH services to all.

Ten key findings emerge from GLAAS 2014 (link below). The results show that to improve access and reduce inequalities beyond 2015, much needs to be done to effectively implement and monitor WASH policies at national level, including to:
• Secure, absorb and target sustained international and national financing;
• Renew focus on health facilities as a priority; to strengthen action in the crucial area of hygiene promotion;
• Support the operation and maintenance of existing infrastructure and services;
• Expand efforts in neglected rural areas where the need for improved services is greatest.
Addressing these issues, in line with achieving the goal of universal coverage in water, sanitation and hygiene, will require the collective efforts of national governments, local communities and international agencies alike.
Additional information
Special permission was granted for a copyright waver so that this pdf file could be placed in the SuSanA library.

Permission granted by Irina Lumelsky, Sales and Marketing Officer United Nations Publications (on 25.09.2015)
lumelsky@un.org

United Nations
Department of Public Information
300 East 42nd Street | IN - 917B
New York, NY 10017
Bibliographic information
WHO (2014). GLASS 2014 Report. Investing in Water and Sanitation: Increasing access, reducing inequalities - UN-Water Global Analysis and Assessment of Sanitation and Drinking Water. World Health Organization, Geneva, Switzerland
Filter tags
English Journalists
Download