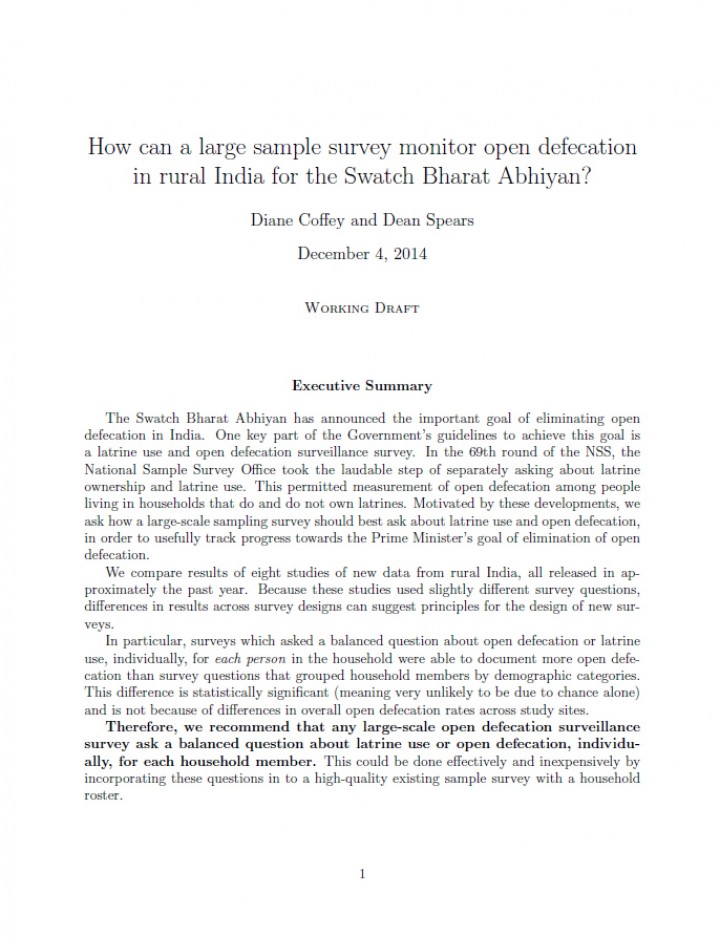 Published in: 2014
Pages: 13
Author:
Coffey, D., Spears, D.
Uploaded by:
SuSanA Admin
Partner profile:
common upload
---
4572 Views
130 Downloads
---
Location of library entry
Based on the results, the following recommendations to any organization considering a large-scale, India-wide sample survey to monitor open defecation, latrine use, and progress towards the Swatchh Bharat Mission in rural India are made:

1. Ask about open defecation as part of an existing survey that already includes a household roster.

2. Ask about open defecation and latrine use separately for each household member, in the order that household members are listed on the household roster.

3. Ask about latrine ownership separately and earlier, in an asset index.

4. Ask a balanced question on latrine use (\Does X defecate in the open or use a latrine?") rather than a biased yes/no question that privileges one outcome (\Does X use a latrine?"). We emphasize that the least open defecation was detected in the one study with an unbalanced question in which the default response was latrine use.

5. Well-trained, motivated surveyors, who do not show personal disapproval of open defecation, are important for ensuring accurate data.

6. Latrine observation can be a useful part of the survey. However, many surveyors in rural India may be reluctant to look at a latrine; this may cause them to skip or hurry through the section. It is an open empirical question whether attempting to require surveyors to inspect latrines would be eective in a large government-style survey organization, rather than in a small academic survey.
Bibliographic information
Coffey, D., Spears, D. (2014). How can a large sample survey monitor open defecation in rural India for the Swatch Bharat Abhiyan? - Working Draft.
Filter tags
Asia & Pacific English Practitioners Rural
Download