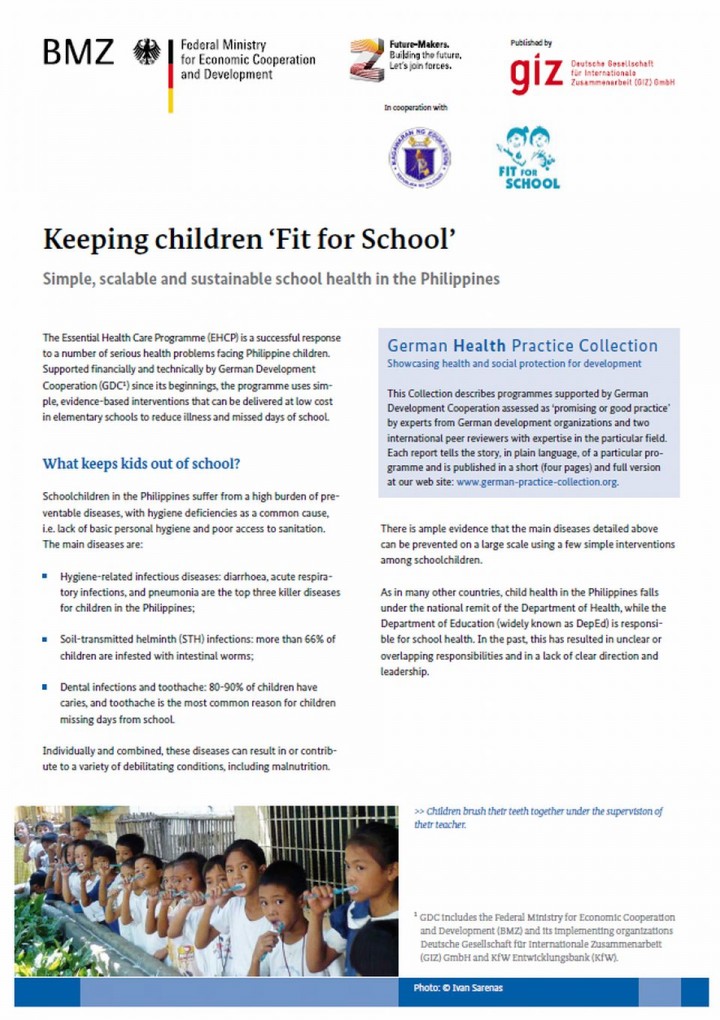 Published in: 2012
Pages: 4
Publisher:
Deutsche Gesellschaft für Internationale Zusammenarbeit (GIZ) GmbH, Germany
Author:
Benzian, H., Wilson, A.
Uploaded by:
Carola Israel (carola)
---
2639 Views
33 Downloads
The Essential Health Care Programme (EHCP) is a successful response to a number of serious health problems facing Philippine children. Supported financially and technically by German Development Cooperation (GDC¹) since its beginnings, the programme uses simple, evidence-based interventions that can be delivered at low cost
in elementary schools to reduce illness and missed days of school.
Content - Summary
The two expert reviewers of this report have concluded that the initiatives described here are worthy examples of current practice in school health.

Although the definitive measure of the programme's effectiveness will only be known once results of the four-year study are published, the EHCP was judged effective in terms of rapidly reaching a large number of children in a short time 'with time-tested interventions that are well-recognized as effective in preventing the relevant health problems.' The reviewers also noted its success in overcoming institutional barriers between the health and education sectors that had previously been major constraints on the effectiveness of previous school health interventions in Philippines.

They commented that EHCP interventions and approach are transferable, being easy to replicate and scale up in many different contexts. Both reviewers stated that the participatory aspect of the EHCP was one of its particular strengths, particularly in that it 'empowers the parents and community stakeholders to be involved in ensuring healthy school children.' The reviewers were impressed with 'well developed tools for monitoring and evaluation of the programme,' including the online monitoring system. They concurred that the innovative nature of the programme was not in the interventions themselves but 'in the sense that it brings the three interventions together into a single, low-cost strategy that addresses the commonest health issues among elementary School children.' The creation of an NGO to partner with the public sector was also seen as innovative. The lack of comparable programmes in other countries to use as benchmarks made it difficult for the reviewers to comment definitively on cost-effectiveness. Finally, it was suggested that DepEd's adoption of EHCP as flagship programme was a hopeful indicator of future sustainability, along with the fact that many provinces were now allocating regular budgets to cover the majority of the programme's material costs.
Bibliographic information
Benzian, H., Wilson, A. (2012). Keeping children fit for school - Simple, scalable and sustainable school health in the Philippines. Deutsche Gesellschaft für Internationale Zusammenarbeit (GIZ) GmbH, Germany
Filter tags
Asia & Pacific English Schools
Download