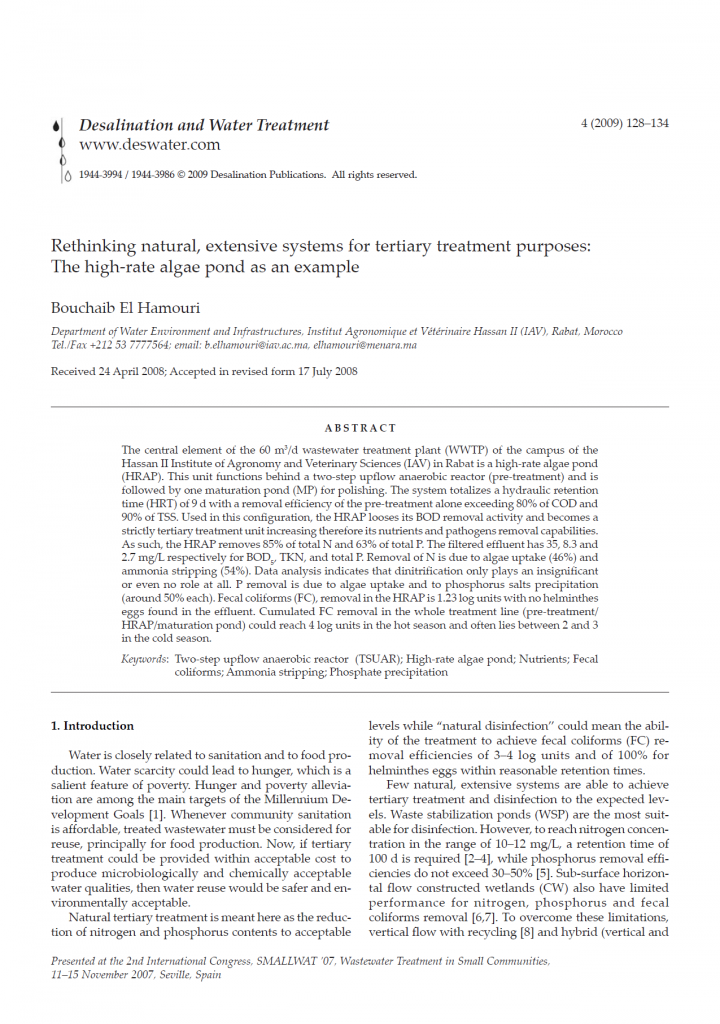 Published in: 2008
Pages: 6
Publisher:
Desalination and Water Treatment, 4, 128–134, Presented at the 2nd International Congress, SMALLWAT '07, Wastewater Treatment in Small Communities, 11–15 November 2007, Seville, Spain
Author:
El Hamouri, B.
Uploaded by:
Elisabeth von Muench
Partner profile:
common upload
---
2791 Views
9 Downloads
---
Location of library entry
Content - Summary
The central element of the 60 m3/d wastewater treatment plant (WWTP) of the campus of the Hassan II Institute of Agronomy and Veterinary Sciences (IAV) in Rabat is a high-rate algae pond (HRAP). This unit functions behind a two-step upflow anaerobic reactor (pre-treatment) and is followed by one maturation pond (MP) for polishing. The system totalizes a hydraulic retention time (HRT) of 9 d with a removal efficiency of the pre-treatment alone exceeding 80% of COD and 90% of TSS. Used in this configuration, the HRAP looses its BOD removal activity and becomes a strictly tertiary treatment unit increasing therefore its nutrients and pathogens removal capabilities. As such, the HRAP removes 85% of total N and 63% of total P. The filtered effluent has 35, 8.3 and 2.7 mg/L respectively for BOD5, TKN, and total P. Removal of N is due to algae uptake (46%) and ammonia stripping (54%). Data analysis indicates that dinitrification only plays an insignificant or even no role at all. P removal is due to algae uptake and to phosphorus salts precipitation (around 50% each). Fecal coliforms (FC), removal in the HRAP is 1.23 log units with no helminthes eggs found in the effluent. Cumulated FC removal in the whole treatment line (pre-treatment/HRAP/maturation pond) could reach 4 log units in the hot season and often lies between 2 and 3 in the cold season.
Bibliographic information
El Hamouri, B. (2008). Rethinking natural, extensive systems for tertiary treatment purposes: The high-rate algae pond as an example. Desalination and Water Treatment, 4, 128–134, Presented at the 2nd International Congress, SMALLWAT '07, Wastewater Treatment in Small Communities, 11–15 November 2007, Seville, Spain
Filter tags
English Middle East & Nothern Africa Rural
Download