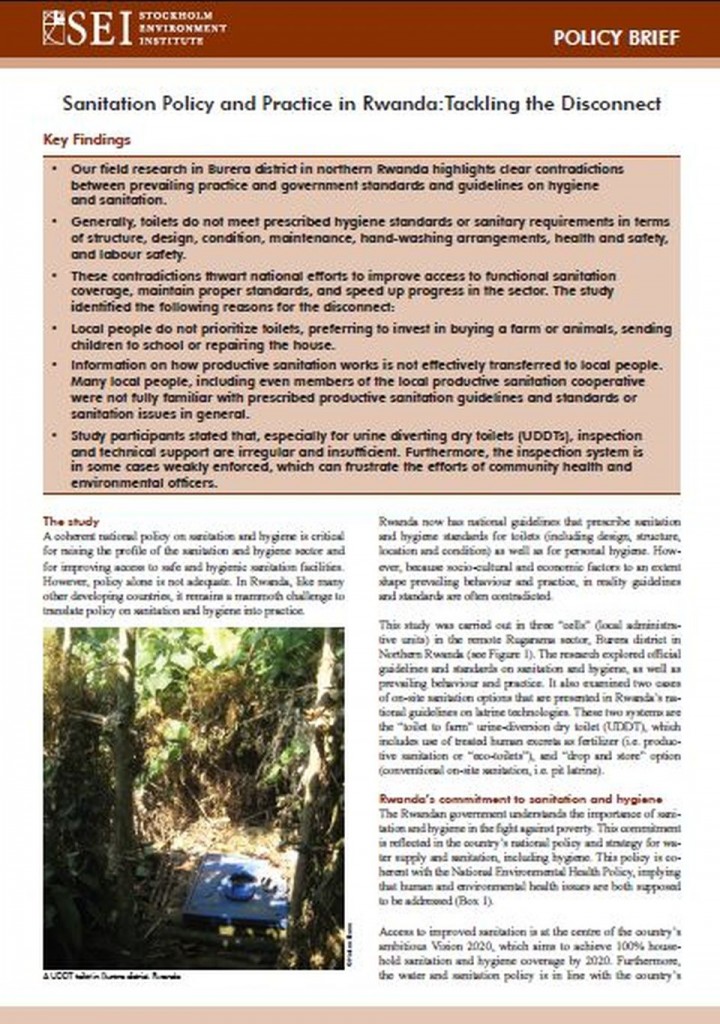 Published in: 2013
Pages: 4
Publisher:
Stockholm Environment Institute (SEI), Stockholm, Sweden
Author:
Ekane, N.
Uploaded by:
SuSanA Admin (susanaadmin)
---
2855 Views
47 Downloads
A coherent national policy on sanitation and hygiene is critical for raising the profile of the sanitation and hygiene sector and for improving access to safe and hygienic sanitation facilities. However, policy alone is not adequate. In Rwanda, like many other developing countries, it remains a mammoth challenge to translate policy on sanitation and hygiene into practice.
Content - Summary
Rwanda now has national guidelines that prescribe sanitation and hygiene standards for toilets (including design, structure, location and condition) as well as for personal hygiene. However, because socio-cultural and economic factors to an extent shape prevailing behaviour and practice, in reality Guidelines and standards are often contradicted. This study was carried out in three "cells" (local administrative units) in the remote Rugarama sector, Burera district in Northern Rwanda (see Figure 1). The research explored official guidelines and standards on sanitation and hygiene, as well as prevailing behaviour and practice. It also examined two cases of on-site sanitation options that are presented in Rwanda's national guidelines on latrine technologies. These two systems are the "toilet to farm" urine-diversion dry toilet (UDDT), which includes use of treated human excreta as fertilizer (i.e. productive sanitation or "eco-toilets"), and "drop and store" Option (conventional on-site sanitation, i.e. pit latrine).
External Download
http://www.sei-international.org/publications?pid=2289 xxx
Bibliographic information
Ekane, N. (2013). Sanitation policy and practice in Rwanda: Tackling the disconnect - Policy brief. Stockholm Environment Institute (SEI), Stockholm, Sweden
Filter tags
English Factsheets and policy briefs Sub-Saharan Africa
Information on external sites
Download