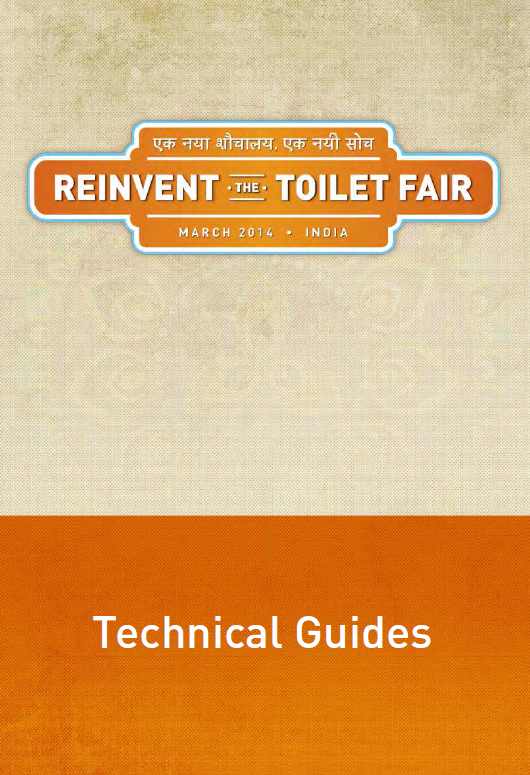 Published in: 2014
Publisher:
Bill & Melinda Gates Foundation, Seattle, USA
Author:
BMGF
Uploaded by:
SuSanA secretariat
Partner profile:
RTI International
---
13433 Views
252 Downloads
---
Location of library entry
Featuring partners of key Government of
India ministries, and the Bill & Melinda Gates
Foundation, the fair showcased innovative
products and approaches that aim to bring
safe, affordable, and sustainable sanitation
to those who need it most. These include
efforts to create toilets that are not connected
to water, sewer, or electricity; to improve
the collection, treatment, and disposal of
human waste; to address behavior change;
and to raise awareness of this critical issue
for governments, stakeholders, and local
communities.

This year's fair in New Delhi was co-hosted
by the Government of India's Department of
Biotechnology and the Bill & Melinda Gates
Foundation, with the support of India's Ministry
of Housing and Urban Poverty Alleviation,
Ministry of Urban Development, and Ministry
of Drinking Water and Sanitation. India is
uniquely positioned to be a global leader in the
development of new sanitation technologies
and a range of other innovative approaches to
achieve sustainable gains in sanitation in India
and abroad.

++++++++++++++

The following projects are included in the Technical Guides with 2-page factsheets:

5 Aerosan
7 American Standard Brands
8 Arghyam
11 Asian Institute of Technology
13 Beijing SunnyBreeze Technology Inc.
15 Biofilcom
17 California Institute of Technology (Caltech)
19 Centre for Advocacy and Research (CFAR)
21 Centre for Environmental Planning and Technology (CEPT) University
23 Center for Study of Science, Technology and Policy (CSTEP)
25 Centre for Policy Research, New Delhi
27 Climate Foundation, Cornell University, Sanergy, Tide Technocrats, and the Prasino Group
29 Cranfield University - Nano-Membrane Toilet
31 Defence Research Laboratory, DRDO, Indian Ministry of Defence
33 Delft University of Technology
35 Department of Industrial Design, SPA Delhi
37 Duke University
39 Duke University and the University of Missouri
41 Eawag (Swiss Federal Institute of Aquatic Science and Technology), Design by EOOS - Blue Diversion
43 Eram Scientific Solutions Pvt. Ltd. - eToilet
45 FSOI Development Firms: AGI Engineering, Beaumont Design, DCI Automation, and Synapse Product Development - Omni-Ingestor
47 Fundación In Terris and Critical Practices LLC - Earth Auger Toilet
49 Indian Institute of Technology Kanpur
51 Institute for Financial Management and Research (IFMR) and Quicksand Design Studio
53 IRC International Water and Sanitation Centre
55 Janicki Industries
57 Loowatt
59 Loughborough University
61 National University of Singapore (NUS)
63 North Carolina State University - The Excravator
65 Pollution Research Group, University of KwaZulu-Natal; eThekwini Water and Sanitation, eThekwini Municipality
67 Population Services International (PSI), Water For People, and PATH
69 RTI International
71 Sanergy
73 Santec
77 SCOPE
75 Sesame Workshop
79 Stone India Limited
81 Sulabh International Social Service Organisation (SISSO); Sulabh Sanitation & Social Reform Movement
83 UNICEF India
85 Unilever
87 University College London and ifak
89 University of Colorado Boulder - Sol-Char toilet
91 University of Toronto
93 University of the West of England (UWE), Bristol - Urine-tricity (electricity from urine)
95 WASH United and World Toilet Organization
97 World Bank Water and Sanitation Program, International Finance Corporation, and Kenyan Ministry of Health
99 3S – A Division of Saraplast Pvt. Ltd.
Bibliographic information
BMGF (2014). Reinvent the Toilet Challenge, Delhi, India - Program and Technical Guides. Bill & Melinda Gates Foundation, Seattle, USA
Filter tags
East Asia & Pacific English Fundamental research and engineering North America
Download