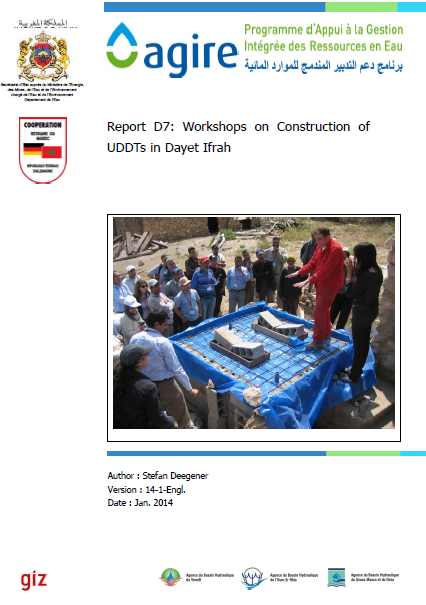 Published in: 2014
Publisher:
Report for Programme AGIRE of GIZ, Morocco
Author:
Deegener, S.
Uploaded by:
SuSanA secretariat
Partner profile:
Deutsche Gesellschaft für Internationale Zusammenarbeit (GIZ) GmbH
---
3901 Views
71 Downloads
---
Location of library entry
Content - Summary
This report presents the construction of double vault Urine Diverting Dehydration Toilets (UDDTs) in Morocco.

After an introduction on the project and the morrocean context general information on UDDTs is provided in order to give finally detailed step-by-step instruction on the construction of UDDTs.
Planning, design, execution and maintenance of the toilets will be described in detail by also considering excreta reuse. The approach to consider excreta and water flows as resources instead of waste is also reflected by including a chapter on greywater treatment from showers, sinks and beigewater from anal cleaning.

The three missions to Morocco have been conducted in:
1st mission: December 2009
2nd mission: June 2010
3rd mission: July-Aug 2010

During the 3 missions four different models of UDDTs have been constructed:
A: simple model: UDDT, urinal, sink, material: concrete bricks
B: UDDT with shower, material: concrete bricks
C: UDDT with shower : natural stones
D: UDDT with shower: concrete bricks, constructed adjacent to existing house

Local masons and dwellers of the project-village Dayet Ifrah were trained. They are now able to design and build UDDTs. During the 2nd mission a major workshop for different stakeholders like NGOs, Office National de l'Eau (ONEP) and other administrations and organisations including gizstaff
has been held. The participants of the seminars have been given practical knowledge as well as theoretical background on the construction of UDDTs.
Bibliographic information
Deegener, S. (2014). Workshops on Construction of UDDTs in Dayet Ifrah. Report for Programme AGIRE of GIZ, Morocco
Filter tags
English Middle East & Nothern Africa Practitioners Rural Urine diversion dehydration toilets (UDDTs)
Download