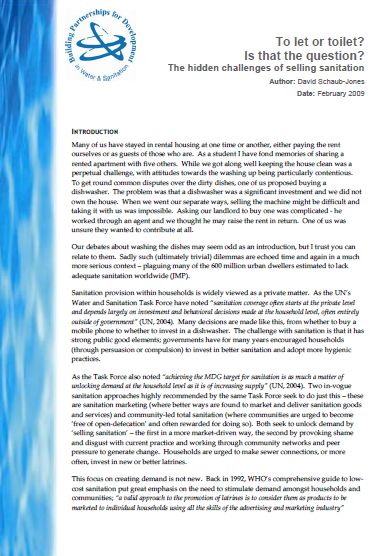 Published in: 2009
Publisher:
Building Partnerships for Development (BPD), Water and Sanitation for the Urban Poor (WSUP), UK
Author:
Schaub-Jones, D.
Uploaded by:
SuSanA secretariat
Partner profile:
common upload
---
6212 Views
54 Downloads
---
Location of library entry
Content - Summary
This paper discusses the issues surrounding tenancy and sanitation, with a focus on responsibility for provision and how to bring about reforms.

Sanitation provision within households is widely viewed as a private matter. As the UN's Water and Sanitation Task Force have noted "sanitation coverage often starts at the private level and depends largely on investment and behavioral decisions made at the household level, often entirely outside of government" (UN, 2004). Many decisions are made like this, from whether to buy a mobile phone to whether to invest in a dishwasher. The challenge with sanitation is that it has strong public good elements; governments have for many years encouraged households (through persuasion or compulsion) to invest in better sanitation and adopt more hygienic practices.

As the Task Force also noted "achieving the MDG target for sanitation is as much a matter of unlocking demand at the household level as it is of increasing supply" (UN, 2004). Two in?vogue sanitation approaches highly recommended by the same Task Force seek to do just this – these are sanitation marketing (where better ways are found to market and deliver sanitation goods and services) and community?led total sanitation (where communities are urged to become 'free of open?defecation' and often rewarded for doing so). Both seek to unlock demand by 'selling sanitation' – the first in a more market?driven way, the second by provoking shame and disgust with current practice and working through community networks and peer pressure to generate change. Households are urged to make sewer connections, or more often, invest in new or better latrines.

What can we learn then, both from 60 years of development assistance and from the way towns and cities in the North evolved?

1) Firstly, pay close attention to people's incentives to invest. Crucial early questions for any sanitation programme should be 'whose land is it anyway?', followed by 'whose roof is it anyway?'. From one place to another, differing answers will mean very different roles for sanitation champions.

2) Secondly, although sanitation improvement may be largely a household decision, the public sector can play a very strong influencing role – whether through compulsion, persuasion or a mix of the two. The urban sanitation sector can learn better how others (housing providers, slum upgraders) have asked and answered 'whose land and roof is it anyway?'. Making compulsion and persuasion work will involve a diverse set of stakeholders; those selling sanitation are going to have to be open?minded and find creative ways to engage them.

3) Thirdly, when selling sanitation, do not think only of improving household?level facilities. The MDGs are not the be?all and end?all. Where tenure and tenancy issues complicate household investment there are very strong arguments for public resources to be used in other ways. Decision?makers may need to revisit their idea of what constitutes a sanitation service and the appropriate role of the public sector therein.
Bibliographic information
Schaub-Jones, D. (2009). To Let or Toilet? Is that the question? The hidden challenges of selling sanitation. Building Partnerships for Development (BPD), Water and Sanitation for the Urban Poor (WSUP), UK
Filter tags
English Sub-Saharan Africa
Download