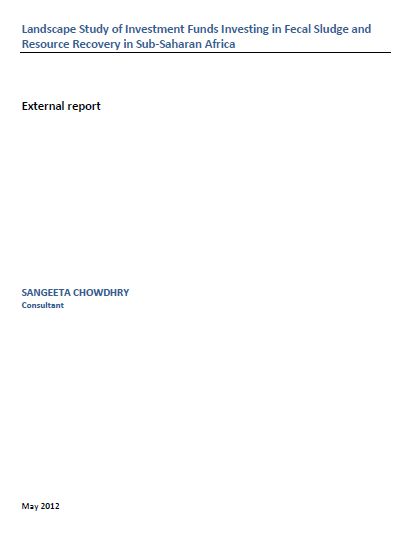 Published in: 2012
Publisher:
Consultancy report commissioned by Bill & Melinda Gates Foundation, Seattle, USA
Author:
Chowdhry, S
Uploaded by:
SuSanA secretariat
Partner profile:
common upload
---
3840 Views
42 Downloads
Content - Summary
This report is a landscaping study of investors funding fecal sludge to energy enterprises in Africa, sponsored by the Bill & Melinda Gates Foundation. In gathering information for this study, I spoke with the senior staff of 36 organizations to get their take on what the issues and needs in the sector were. These organizations included a variety of investors as well as a handful of implementing organizations.
The report submitted to the Foundation contained investment details and strategies of these investors and market analysis based on the conversations with them.

There were some common themes that emerged from the conversations with the investors. The most significant one being that there are simply not enough businesses in the waste-to-energy sector to attract investments – and businesses are almost non-existent in the fecal waste to energy area. The investments that are being made are opportunistic in nature, rather than systemic. Even impact investors doing water, sanitation and hygiene (WASH) and renewable energy sector funding, are not actively seeking waste-to-energy deals.

Most of the renewable energy investments are being done in solar-technology based products and services. There is opportunity in micro-hydro projects and large wind farms. Opportunity also exists in solid-waste collection and recycling projects – although this sub-sector seems to be challenged by concerns of corruption at the local municipal level and informal 'mafia' control of the collection in some cities, making it difficult for entrepreneurs to enter the market.

Enterprises that are targeting the poor through waste-to-energy innovation are either using agricultural or animal waste as their feedstock. Human waste-to-energy projects are limited to household level biogas plants, the likes of which are being implemented by SNV across Africa and Asia, or are being tried out at an institutional level such as in the prison system or schools in Rwanda. The most commonly referred to social enterprises by the funders were Sanergy in Kenya (mentioned by most), Waste Enterprisers in Ghana and Emergence Bioenergy in Bangladesh.

The main challenges in market creation and growth of commercial waste-to-energy enterprises, as highlighted by the funders were:

1. Lack of an understanding of the economic model based on actual data. This included challenges in reliability of input feedstock and market size for outputs. With clear and viable business models of enterprises based on solar technology available, for instance, investors (private equity and impact) were finding it easier and preferable to invest in those opportunities for their cleantech portfolios.

2. Lack of supportive regulatory mechanisms

3. Need for more seed funding – not impact funding – and support for the entrepreneurs to help them commercialize their ideas

4. The focus on biogas to electricity was seen as somewhat limiting, with a need to evaluate business models for other outputs of waste.

The issue was thus not one of a lack of capital – as there was funding available from a range of investors (philanthropic funders to impact investors to private equity investors). Rather, the issue was a lack of "investable" deals and understanding of business models that could operate within the regulatory frameworks of various countries in Africa.
Bibliographic information
Chowdhry, S (2012). Landscape Study of Investment Funds Investing in Fecal Sludge and Resource Recovery in Sub-Saharan Africa - External report. Consultancy report commissioned by Bill & Melinda Gates Foundation, Seattle, USA
Filter tags
Biogas systems English Faecal sludge treatment processes Fundamental research and engineering Sub-Saharan Africa
Download