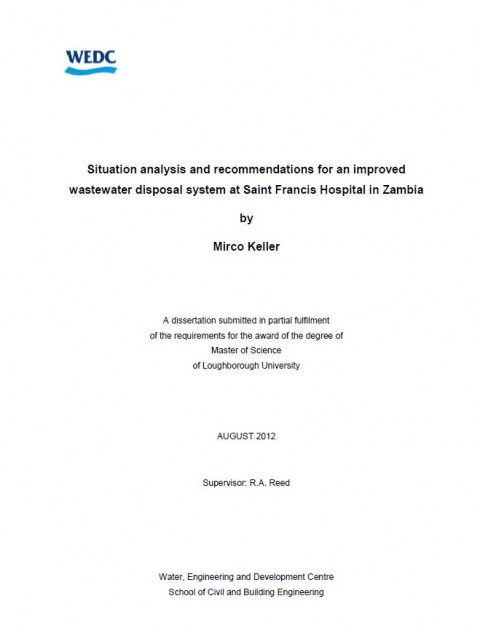 Published in: 2012
Publisher:
MSc Thesis, Loughborough University, Water, Engineering and Development Centre (WEDC), Loughborough, United Kingdom
Author:
Keller, M.
Uploaded by:
SuSanA secretariat
Partner profile:
common upload
---
3406 Views
30 Downloads
---
Location of library entry
Content - Summary
This study provides a situation analysis and recommendations of options for an improved wastewater disposal system at Saint Francis Hospital in Zambia.

Saint Francis Hospital (SFH) is a church-administered hospital, situated in Katete in Eastern Zambia. It serves a local population of about 240,000 people and receives specialist referrals from the whole Eastern Province (1.7 million people). A recognized nursing and midwifery training school is also located on the hospital premises.

The aim of this study is to assess the current wastewater disposal system and its main challenges, to define key design criteria and to identify the principal options for a future system. The data collection has been carried out during a three-week field visit in June 2012. Tools for collecting data included observations, site surveys, measurements, interviews as well as secondary data.

Situation analysis:
- Site conditions
- Pit latrines & toilet cubicles
- Septic tanks & soak pits
- Surface water
- Occurrence of blockages
- Discharge of chemicals
- O&M arrangements
- Institutional arrangements & legal aspects

General advice:
- Prioritizing sanitation
- Continue operation of existing pit latrines and build six more
- Sensitisation on correct usage of toilets
- Provide adequate number of toilets
- Provide appropriate type of toilet for each ward
- Improve solid waste management near toilet cubicles
- Stop discharging X-Ray chemicals into sinks

Design criteria: The key design criteria have been defined as the following: Population, Sludge accumulation, Wastewater quantity, Wastewater strength, soil properties and Climate.
Selection criteria: The selection criteria for the suggested options are: Capital costs, Expertise required for O&M, O&M costs, Convenience and reliability, Design life.

Option 1: The existing system remains in place and its system components are rehabilitated, or replaced where needed. An appropriate desludging device is acquired and two sludge settling ponds are constructed. Standardized designs for septic tanks and soak pits are produced in order to ensure correct constructions. Special attention needs to be paid to the depth of the groundwater table.

Option 2: A new sewerage system collects all the wastewater from the hospital and most of the residential areas and disposes it into the first pond of a series of Waste Stabilization Ponds. Two sites (Site A and Site B) have been identified for a possible location of the ponds.

Comparison of options: The capital costs for Option 2 are considerably larger compared to Option 1. Option 1 requires significantly more know-how for an effective O&M of the system compared to Option 2. On the other hand, Option 2 requires skilled personnel for the construction of the sewerage system and pond system. Once the system is in place, the costs for operation and maintenance are expected to be much larger for Option 1 compared to Option 2. Both systems provide a convenient way of wastewater disposal, while Option 2 is rated slightly better as the ponds are sufficiently far away in order not to create any nuisance. Both options, if maintained properly, provide a reliable means of wastewater disposal. Option 1: while septic tanks can have a service life of 20 years or more, soak pits typically only last between 3 and 5 years without maintenance. Waste Stabilisation Ponds (Option 2) have a design life of at least 20 years.

Summary: The situation analysis showed a wastewater disposal system that mainly consists of septic tanks and soak pits. The current maintenance arrangements are very ineffective and rely on reactive rather than preventive maintenance of the system. Two principal options have been identified: Option 1 involves primarily improving the existing system, while Option 2 consists of a completely new sewerage system with a series of Waste Stabilization Ponds. In addition, a number of common areas in need of improvement have been identified, all of which are of vital importance for any of the two options.
Bibliographic information
Keller, M. (2012). Situation analysis and recommendations for an improved wastewater disposal system at Saint Francis Hospital in Zambia. MSc Thesis, Loughborough University, Water, Engineering and Development Centre (WEDC), Loughborough, United Kingdom
Filter tags
Case studies in other formats English Sub-Saharan Africa
Download