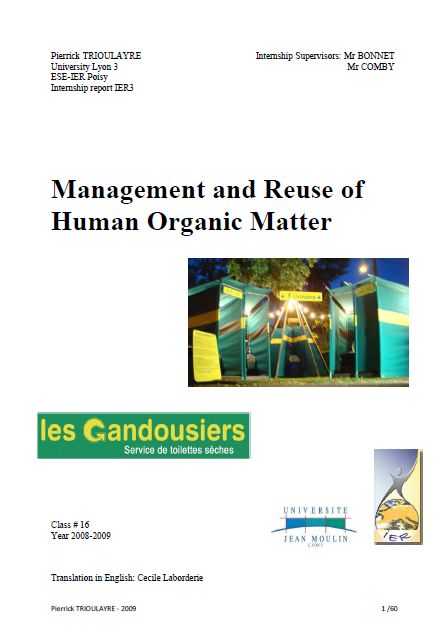 Published in: 2009
Author:
Trioulayre, P.
Uploaded by:
SuSanA secretariat
Partner profile:
common upload
---
3338 Views
36 Downloads
Content - Summary
This report is the outcome of two months of internship within the company Les Gandousiers. This company, located in Saint-Dizier-en-Diois in the Drôme region in France (south east of France*), offers hire service of dry toilets to all kinds of outdoor events in France. More than a simple sanitation service, the company commits to provide treatment and
reuse of human waste through composting, and to advocate composting systems. I chose to work within this organisation because it is in line with my professional project. The internship confirmed my interest to work in the fields of water and housing as both fields were at stake.

The activities of the internship were varied but the main activity consisted in field work. I participated in several events such as musical festivals, and local celebrations such as the Bird Festival in Sainte-Croix-en-Jarez or the Dialogues en Humanité festival in the biggest public park in the city of Lyon (east of France*). Moreover, I was in charge of proposing solutions to reuse human waste collected during the public events. Managing and reusing human waste is the main challenge of the company Les Gandousiers. French health monitoring agencies have recently become interested in the field of human waste reuse, in particular because there is a legal gap in this field. This is a
challenge for the company as they have to anticipate the future promulgation of laws, whereas public authorities have not defined yet a policy.

The purpose of the internship was to redefine the management scheme of the
company and make proposals to improve human waste recycling options. This report makes suggestions for improvements and investments the company could make.
Bibliographic information
Trioulayre, P. (2009). Management and reuse of human organic matter - Internship report.
Filter tags
Composting, vermicomposting (solid waste), composting toilets English Europe, Caucasus & Central Asia
Download