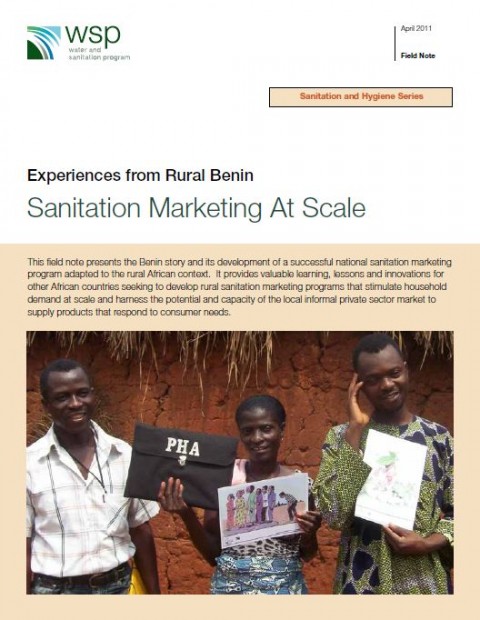 Published in: 2011
Publisher:
World Bank, Water and Sanitation Program (WSP), USA
Author:
Scott, B., Jenkins, M., Kpinsoton, G.
Uploaded by:
SuSanA secretariat
Partner profile:
common upload
---
3340 Views
30 Downloads
Content - Summary
Sanitation marketing is a sustainable approach to household sanitation uptake at scale. While efforts in Africa to use marketing are underway in several countries, success stories have yet to be shared. In Benin, the Directorate for Hygiene and Basic Sanitation within the Ministry of Health has championed the development and operation of a highly innovative rural sanitation marketing programme. Within the first one-and-a-half years promotion cycle under national roll-out launched in 2005, the programme has resulted in a 10 percentage point increase in improved sanitation coverage from a baseline of 6.2% across 80,000 monitored
households. Besides the one in ten households in enrolled communities that has completed construction, a further 2 to 3 out of every ten households is either planning or in the process of building an improved family latrine by accessing market-supplied materials and services. While already impressive these figures likely underestimate the full impact of this marketing intervention for reasons which are explained.

This field note presents the Benin story and its development of a successful national sanitation marketing program adapted to the rural African context. It provides valuable learning, lessons and innovations for other African countries seeking to develop rural sanitation marketing programs that stimulate household demand at scale and harness the potential and capacity of the local informal private sector market to supply products that respond to consumer needs.
Bibliographic information
Scott, B., Jenkins, M., Kpinsoton, G. (2011). Experiences from rural Benin: Sanitation marketing at scale - Experiences from rural Benin. World Bank, Water and Sanitation Program (WSP), USA
Filter tags
English Rural Sub-Saharan Africa
Download