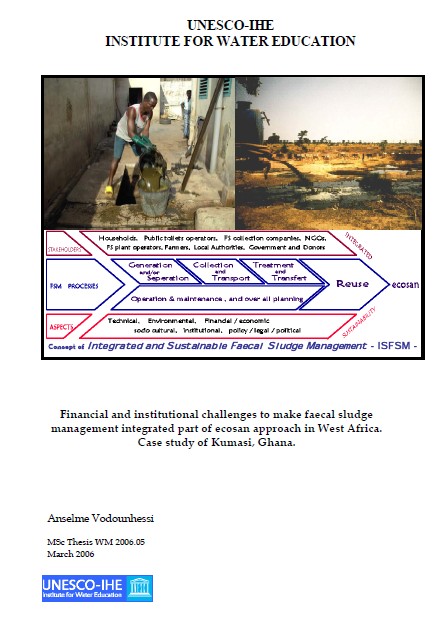 Published in: 2006
Publisher:
MSc Thesis (WM 2006.05), UNESCO-IHE Institute for Water Education, Delft, the Netherlands
Author:
Vodounhessi, A.
Uploaded by:
SuSanA secretariat
Partner profile:
common upload
---
3932 Views
48 Downloads
---
Location of library entry
Content - Summary
The debate on sanitation services provision in Africa should go beyond technologies and focus more on appropriate financial and institutional arrangements to reach systems' sustainability irrespective of donors' financial supports.

The aim of this study is to adapt the Faecal Sludge Management (FSM) in West African context to the ecological sanitation (ecosan) concept. Kumasi, a city in Ghana located 300 km Northwest of Accra the capital city, is used as a case study. In the context of this thesis, I understand "ecosan" to be a sanitation system that is sustainable in all aspects (however this thesis focuses mostly on the financial sustainability) and which allows "closing the loop" (this means returning nutrients and soil conditioners from sanitation systems back to agriculture). In Kumasi where FSM issues are institutionally better tackled than in many other towns in West-Africa, the system sustainability is still a problem because of the high government subsidy through donors' support. Improved financial and institutional
arrangements need to be found for an economical and ecological sustainability of the system in accordance with ecosan approach.
Bibliographic information
Vodounhessi, A. (2006). Financial and institutional challenges to make faecal sludge management integrated part of ecosan approach in West Africa - Case study of Kumasi, Ghana. MSc Thesis (WM 2006.05), UNESCO-IHE Institute for Water Education, Delft, the Netherlands
Filter tags
Case studies in other formats English Faecal sludge treatment processes Sub-Saharan Africa
Download