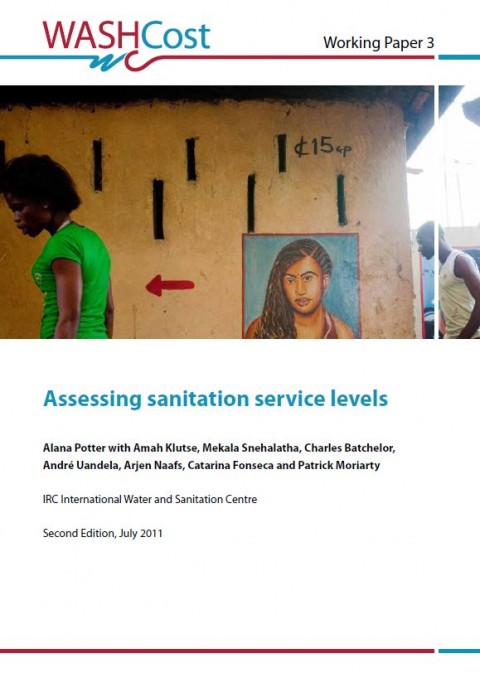 Published in: 2011
Publisher:
IRC International Water and Sanitation Centre, The Hague, The Netherlands
Author:
Potter, A.
Uploaded by:
SuSanA secretariat
Partner profile:
IRC
---
6560 Views
121 Downloads
---
Location of library entry
The purpose of this working paper is to set out sanitation service levels to be applied as an analytical tool for WASHCost research on the disaggregated unit costs of water, sanitation and hygiene services. It should be read together with Working Paper 2: Ladders for assessing and costing water service delivery1 (Moriarty et al., 2010) which introduces
the concept of service levels, service level indicators and the use of ladders as a metaphor and a means to differentiate between broad levels of service. Both are working documents of the WASHCost team, aimed at providing a framework for data analysis to be used and tested by WASHCost. To help in the evolution of the WASHCost thinking and approach, feedback and comments are sought from interested readers.

The purpose of the water and sanitation ladders is to provide a common framework to analyse and compare water and sanitation cost data being collected across different country contexts with different service delivery norms and standards. It is hoped that the water and sanitation service ladders developed for WASHCost research purposes can be used as part of the process of setting norms and targets with respect to ongoing service delivery and will also serve an advocacy function.

In September 2010, the first version of this working paper was published. Subsequent field testing in the four WASHCost countries resulted in efforts to revise and update parts of the sanitation service level assessment framework and the methodology.

In the second edition of the working paper Assessing sanitation service levels, indicators found to be more useful than others have been added, data that required too much time and financial resources for collection were eliminated, as well as data that found to have resulted in unreliable information. Although critical to both water and sanitation
services, hygiene-related indicators such as hand washing are now assessed separately, and as part of hygiene costeffectiveness studies. Overall, efforts to revise this working paper were based on a pragmatic reflection on the usefulness of initially-conceived indicators and the need to develop a tool that is useful and easily replicable.

WASHCost is a five-year action research project investigating the costs of providing water, sanitation and hygiene
services to rural and peri-urban communities in Ghana, Burkina-Faso, Mozambique and India (Andhra
Pradesh).
Bibliographic information
Potter, A. (2011). Assessing sanitation service levels - Working Paper 3. IRC International Water and Sanitation Centre, The Hague, The Netherlands
Filter tags
Cities (WG6) English Guidelines and manuals
Download