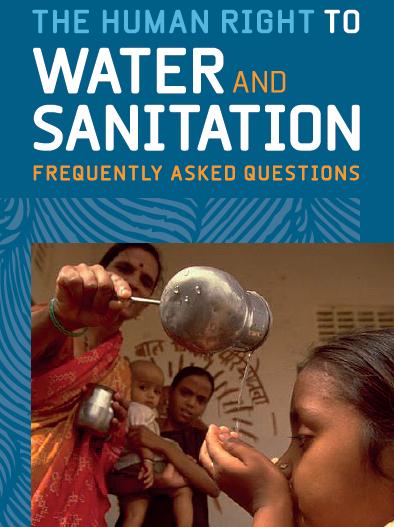 Published in: 2011
Publisher:
United Nations, New York, USA
Author:
UN
Uploaded by:
SuSanA secretariat
Partner profile:
common upload
---
4303 Views
120 Downloads
Content - Summary
A series of relevant documents on human rights to water and sanitation are listed in this download area.

Following the UN General Assembly resolution, the resolution of the UN Human Rights Council affirms that the rights to water and sanitation are part of existing international law and confirms that these rights are legally binding upon States. It also calls upon States to develop appropriate tools and mechanisms to achieve progressively the full realization of human rights obligations related to access to safe drinking water and sanitation, including in currently unserved and underserved areas.

General comment No.15 still serves as a basis for defining the content and the scope of the human right to water and sanitation.

Documents included in this compilation of documents to human rights (HR) are:
- The normative content of human rights obligations in relation to access sanitation (Special Rapporteur Ms. Catarina de Albuquerque), 2009
- Flyer on criteria, legal obligations and tangible benefits
- Milestones - The Human Right to Water adn Sanitation, 2011
- Resolution of Human Rights Council, October 2010
- Resolution of General Assembly, July 2010
- Draft Guidelines for the Realization of the Right to Drinking Water and Sanitation , 2005
- General Comment No. 15

What is needed to meet to human right to sanitation?
quoted from: http://www.righttowater.info/what-is-needed-to-meet-the-human-right-to-sanitation/Basics: What is needed to meet the human right to sanitation?

'Facilities and services' should include the collection, transport, treatment and disposal of human excreta, domestic wastewater and solid waste, and associated hygiene promotion.

Specifically, to meet human rights requirements, sanitation must be:

Safe: Sanitation must effectively prevent human, animal and insect contact with excreta. Toilets (including latrines) must provide privacy and a safe and dignified environment for all. Water must be available for good personal hygiene, and facilities for safe wastewater disposal must be in place.

Physically accessible: Toilets must be within, or in the immediate vicinity of, each household, educational institution or workplace and available for use at all times of the day or night, along with associated services such as removal of wastewater and sewerage or latrine exhaustion. Appropriate facilities for use by children, disabled and elderly persons must also be available. In order to prevent disease, toilets must be available for and used by all persons in a particular locality.

Affordable: Access to sanitation, including maintenance, must be affordable, without reducing the individuals or household's capacity to acquire other essential goods and services, such as food, education and health.

Culturally sensitive: The construction and design of latrines should be culturally appropriate. Male and female public facilities, in particular in schools, need to be separate so as to ensure privacy, dignity and safety.
Bibliographic information
UN (2011). The Human Right to Water and Sanitation - A series of relevant documents. United Nations, New York, USA
Filter tags
English Journalists
Download