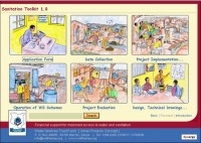 Published in: 2011
Publisher:
Water Services Trust Fund, Kenya
Author:
WSTF
Uploaded by:
SuSanA secretariat
Partner profile:
common upload
---
9125 Views
3226 Downloads
Content - Summary
This toolkit contains the complete set of tools (e.g. drawings, BoQs, management guidelines) that the Water Service Providers (WSPs) need to plan, design, implement, manage, monitor and evaluate programmes for their customers specifically in low income areas.

The toolkit is owned and was developed by the Water Services Trust Fund (WSTF), a pro-poor basket fund. The process was assisted by the water sector reform program of GIZ, formerly GTZ, with GFA as consultant on behalf of the German Government (Ministry for Economic Cooperation and Development, BMZ). The team leader was Han Seur from GFA.

In its original form it is available as a user-friendly DVD that assists the WSPs and Water Services Boards during the 8 project phases of the funding scheme called Urban Projects Concept, which is briefly described in a booklet available at the following link:
http://www.susana.org/lang-en/library?view=ccbktypeitem&type=2&id=872.

Table of Contents:

Chapter 1. Application Form
- Application Forum and MoU
- Sanitation Concept of the WSTF
- Legal Issues Related to Public Sanitation

Chapter 2. Data Collection
- Assessing Demand for Public Sanitation
- Data Collection Tools
- Relevant Publications & Policy Documents (only links)

Chapter 3. Project Implementation Programme
- Contract Establishment
- Sensitisation & Health Education (Posters)
- Reporting by WSPs

Chapter 4. Operation of Sanitation Schemes
- WSP-Operator PSF Contract
- Public Sanitation; Rules and Guidelines
- Public Toilets Management Guideline
- Maintenance of Public Sanitation Facilities

Chapter 5. Project Evalution

Chapter 6. Design, Technical Drawings
- Public Sanitation Design Guideline
- Public Sanitation Construction Guidelines
- Public Sanitation Facility, Drawings & BoQs
- Connection Facilities, Bio-digesters (still missing)

The toolkit DVD can be ordered from info@wstf.org and further information on the WSTF is found on www.wstfkenya.org.

A tool can be an application form, a publication, a guideline, a poster, a checklist, a contract, a drawing or a manual. Some tools guide you through the process of designing and implementing project activities.

Most tools can be adapted, changed and printed by you. Some have been prepared using Microsoft Word, Microsoft Excel, ArciCad and AutoCAD. This online version has however joined a number of documents together as pdf in order to reduce the number of files. The original files are available on the DVD-ROM or can be requested by e-mail to susana@giz.de.

We hope that you find these tools useful for your work!
Bibliographic information
WSTF (2011). Toolkit for urban public sanitation projects in Kenya (Version 1.0). Water Services Trust Fund, Kenya
Filter tags
Biogas systems Cities (WG6) English Guidelines and manuals Operation, maintenance and sustainable services (WG10) Practitioners Recommended by SuSanA (other than SuSanA publications) Sub-Saharan Africa Urban (entire city)
Download