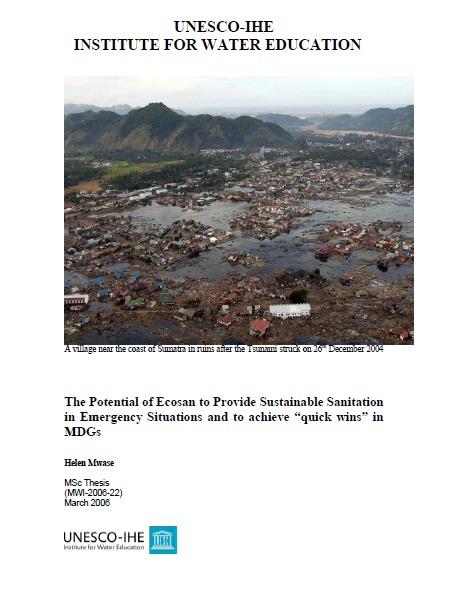 Published in: 2006
Publisher:
MSc Thesis (MWI-2006-22), UNESCO-IHE Institute for Water Education, Delft, the Netherlands
Author:
Mwase, H.
Uploaded by:
SuSanA secretariat
Partner profile:
common upload
---
4996 Views
60 Downloads
---
Location of library entry
Content - Summary
Natural or man-made disasters such as earthquakes, hurricanes and war, cause emergency situations, which affect people's lives, the infra-structure that supports them and their natural environment. In developing countries, the existing infrastructure is often weak and insufficient to start with. For this reason, emergency situations in developing countries can usually be characterised by one or several of the following: disease outbreaks, insecurity, violence, and lack of basic services such as food, water and sanitation. The aid agencies tend to implement sanitation systems that are well known and proven even if they may not always be long-term sustainable solutions. Currently the excreta disposal practices used in emergency situations in developing countries include open field defecation, shallow trench latrines and deep trench latrines for immediate to short term emergency situations, and simple pit latrines and pour flush latrines for long-term emergency situations.

This study was carried out as a desktop study with support from Médecins Sans Frontières (MSF)and the International Committee of the Red Cross (ICRC), who enabled me obtain the case studies used in this research. I have analysed three case studies from developing countries namely the case El Salvador after Hurricane "Mitch" in 1998, the Afghanistan
environmental sanitation programme in 2000 and the Pakistan earthquake in 2005. For each case study, I have analysed the existing water supply and sanitation situation before the occurrence of the disaster, the type of systems that were installed after the disaster, and examined whether ecosan could have been an appropriate solution.
Bibliographic information
Mwase, H. (2006). The potential of ecosan to provide sustainable sanitation in emergency situations and to achive "quick wins" in MDGs. MSc Thesis (MWI-2006-22), UNESCO-IHE Institute for Water Education, Delft, the Netherlands
Filter tags
Case studies in other formats East Asia & Pacific English Europe & Central Asia Latin America & Caribbean Urban informal settlements (slums) Urine diversion dehydration toilets (UDDTs)
Download