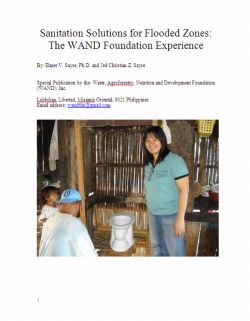 Published in: 2011
Publisher:
Water, Agroforestry, Nutrition and Development Foundation (WAND), Inc
Author:
Sayre, E. V., Sayre, J. C. Z.
Uploaded by:
SuSanA secretariat
Partner profile:
common upload
---
5295 Views
101 Downloads
---
Location of library entry
Content - Summary
This publication details our experience in promoting ecological sanitation in flooded zones where plush-pour toilets is no longer effective and where people defecate in the open causing "acute gastroenteritis which is the second leading cause of morbidity in the country, while soil-transmitted helminthiasis (STH) continue to be endemic in a number of municipalities, making the Philippines the country with the second highest rate of STH incidence in Asia. (cited in DOH Administrative Order 2010 – 0021, "Sustainable Sanitation as a National Policy and a National Priority Program of the DOH." Sanitation solution comprises simple single-chamber urine diverting, dehydration toilets (UDDT) and simple urine collectors. In this project, we found out that promoting decentralized sanitation system that is cheap, robust, appropriate and scalable for the bottom poor living in flooded zones is indeed realizable. The authors are Elmer V. Sayre, Ph.D. and Jed Christian Z. Sayre from WAND Inc.
Bibliographic information
Sayre, E. V., Sayre, J. C. Z. (2011). Sanitation Solutions for Flooded Zones - The WAND Foundation Experience. Water, Agroforestry, Nutrition and Development Foundation (WAND), Inc
Filter tags
Asia & Pacific English Faeces or faecal sludge Practitioners Urine Urine diversion dehydration toilets (UDDTs)
Download